Choosing the right snowboard boot is essential for having a great time on your board all day long. One of the advantages of snowboarding compared to skiing is that the boots are way comfier. But to get the maximum comfort you need to choose the right kind of boot. Everyone has their own idea of what makes a good pair of snowboarding boots, but one thing remains: They have to be comfortable!
Normally if you are experiencing pain in your boots it is due to a pressure point somewhere in the boots. This could be squeezing the sides of your foot if your boot is too narrow, too much pressure at the back of the calf if you have wide calves or it could simply be that your toes are getting crushed at the end of the boot. So the first step to getting comfy boots is making sure you are in the right size boot for your feet.
Snowboard boot sizing translates to exactly to your shoe size, so if you are a size 10 sneakers you should pick a size 10 snowboard boot! It's a common misconception that you should go up a size but this can lead to its own problems. If your boots are too big then your foot can slide back and forth in the boot meaning every time you turn onto your heel edge your toes hit the end of the boot. It can also lead to heel lift which can mean you have to work harder to hold onto the edge during turns which can cause your feet to cramp up.
What Makes Snowboard Boots Comfortable
What can you do if your boots are still uncomfortable even if you have the right size? These are some of the features you should look for in a boot if you are prioritising comfort.
Heat moldable liners.
Heat moldable liners will take the form of your foot and ankle. This is a great way to reduce pressure points and increase your level of comfort. If you've got brand new boots with heat moldable liners, then make sure you mold them to your feet before you take them up the hill. This will give you the best custom fit to your foot and also the liners can be a little tight before they have had a chance to shape to your foot.
Upper and lower zone lacing.
Being able to tighten the top and bottom of your boot independently is really key to getting a comfortable fit. I like to ride with my boots good and tight around the bottom zone to hold my ankle securely and a little looser in the top so that I can move and flex in the boot.
Boa lacing system
Anyone who has experienced foot pain on the mountain will know that the first thing you want to do is loosen off your laces. The boa system allows you to do this really simply and quickly without having to take your gloves off. This means you can easily loosen off your boots every time you jump back on the lift and give your feet a break!
Insoles
Make sure your boots come with an insole with some arch support. Most higher end boots will feature this or you can buy snowboard-specific replacement insoles from brands such as shredsoles.
Soft to medium flex.
Snowboard boots need to hold and support your foot but sometimes boots which are too stiff and restrict movement leading to pressure points and cramping. You should pick a boot which suits your level of riding and your weight. Riders who ride harder/faster and/or are heavier will need a stiffer boot. Beginners and/or lighter riders will be fine riding in a soft boot.
Unfortunately, boots with all these features come with a higher price tag than some of the entry level boots. But if you experience foot pain, then I think a decent pair of boots is the best snowboard kit investment you can make!
Most Comfortable Men's Snowboard Boots
These boots from Ride are packed with features which make them one of the most innovative boots on the market, but here I'll just focus on what makes them super comfy.
In the front of the boot we have Ride's slime tongue, which my not sound that nice but does a really good job of dampening out the mico impacts that the front of your leg is subjected to throughout the day
Likewise at the back of the boot there is the Rebound Heel Counter™ which helps absorb the impacts in the heel and ankle area
They have a heat moldable liner with a seamless design, which wraps around the leg and closes on the side. This helps remove any pinch points from the front of the leg
However, what sets these boots apart is their triple Boa® lacing system. Not only are the upper and lower lacing zones controlled by separate Boa's but also the liner is tightened with Ride's Tongue Tied system. This system uses the Boa cables to pull the whole tongue of the boot down and around the ankle. This enables you to hold the ankle down without the pinch point of a normal lacing system. In my opinion, these 3 Boa's make the Trident the most customisable boot out there.
They are a little on the stiff side so best for heavier or more advanced riders, and for anyone looking for .
---
Most comfortable wide boots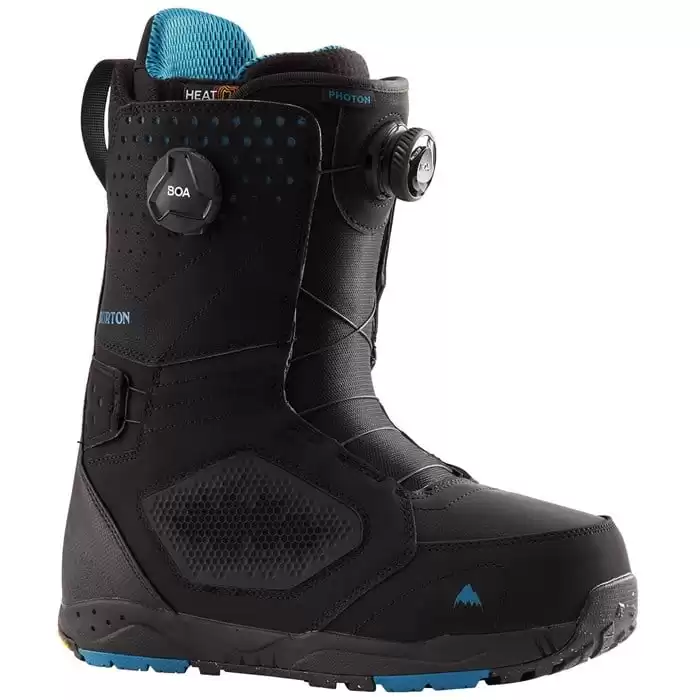 These boots from Burton are specifically designed for wide feet. The last that the boot is designed around is a little wider giving you a little more room if you experience too much pressure squeezing your feet.
Like all boots in this list they have a twin Boa lacing system but what makes this different from other boots is the way it tightens with the cables wrapping around the back of the boot. This distributed the pressure around the whole ankle region allowing for a really firm hold but which doesn't pinch or cut the circulation.
Another difference with the Burton Boe system is that instead of using steel cables they use New England cord which has a little more give in it. This just softens the responsiveness of the boot a touch and gives it a more organic feel when when flexing into the front of the boot
Inside the boot there is Burton's Imprint3 custom liner with a slightly larger toe box than the previous year's model for extra wiggle room . The Imprint 3 insole which has a good amount of support around the arches of the foot to alleviate cramping when you crank up the bindings
On the outside of the boot, Burton have added s4 panels where the ankle strap will sit. These panels even out the pressure from the ankle strap and reduce any pinch points on the sides of the foot.
If wide feet is your issue then there are some other options for wide snowboard boots
---
Most Comfortable Women's Snowboard Boots
Best for wide Calves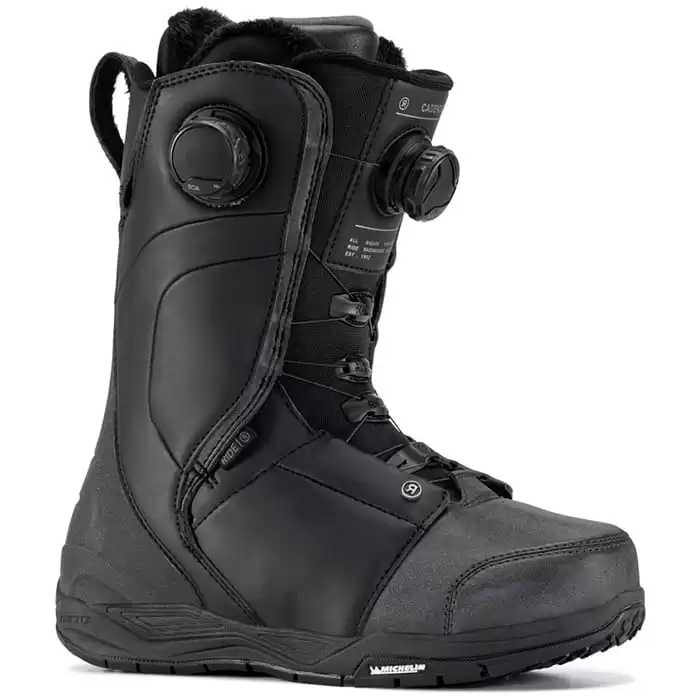 The interesting thing about these boots from Ride is the Calf Adjustment Technology which makes them a great choice for anyone with a larger calf. The whole upper back section is adjustable so you can customise to your leg and remove the painful pinch point at the top of the boot.
They also have Ride's Tongue Tied system which can tighten the tongue of the boot evenly down over the foot. This produces a really solid hold of the foot in the back of the boot without the pressure points of other systems.
The liner is fully heat moldable with Multi-density foam for a fully supported custom fit.
Wrapping up
Snowboard boots really should not be uncomfortable…Its not like they are ski boots! Once you've identified the problem which is causing your foot pain, try and find a boot which has much adjustability as possible in that area. I hope this article has given you some ideas which can help you find a comfy pare of boots and let you concentrate on your riding!
The end…now sign up to our newsletter!
Get more snowboarding tips and news on deals on the latest kit