Rear entry bindings are so-called because the binding opens up allowing you to slide your foot in from the back. The idea is that this makes getting your foot in and out of the binding much quicker than conventional strap snowboard bindings.
Description:

Nidecker's innovative quick-release system is the best step-in solution available today!
My top pick!
Description:
Nidecker's innovative quick-release system is the best step-in solution available today!
How do you get into rear-entry bindings?
Although there are some differences between different models and brands, all Rear entry bindings pretty much work in the same way.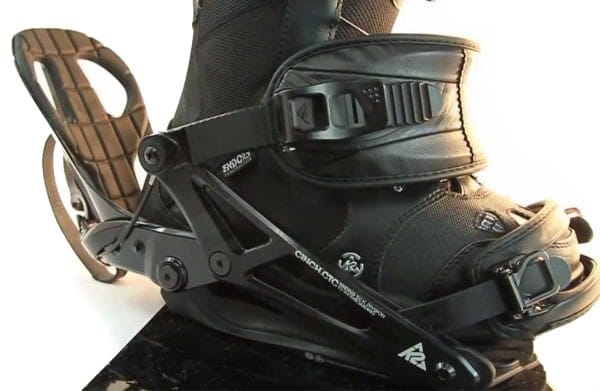 The highback at the back of the binding opens up allowing your foot to slide in. The highback then hinges back up and is locked into place. This means you don't need to adjust the toe and ankle strap each time that you strap in, saving you time.
The idea with rear entry bindings is that once they are correctly set up to fit your boot you just need to open/close the highback to get your foot in/out. This means you can save time without the need to tighten the toe and ankle straps that you find on conventional strap bindings.
It also means that you can ride straight off the lift and strap in without having to stop, although this does take a bit of balance.
Rear entry bindings Compatibility
Rear entry bindings have the same 4 hole crew pattern as conventional bindings, this means they can be mounted on any board. They can even be mounted on Burton channel system boards with the correct adaptor
Are rear entry bindings any good?
Undoubtedly the main advantage and main people ride Rear entry bindings is speed of use. Clipping in and out can be done on the move and save you time getting on and off the lifts.
I found that they can offer a bit more support in the front of the binding. This can be an advantage if you are riding old and tired boots which have little support, particularly when you are turning on your toe edge
---
Best Rear Entry Snowboard Bindings
My top pick!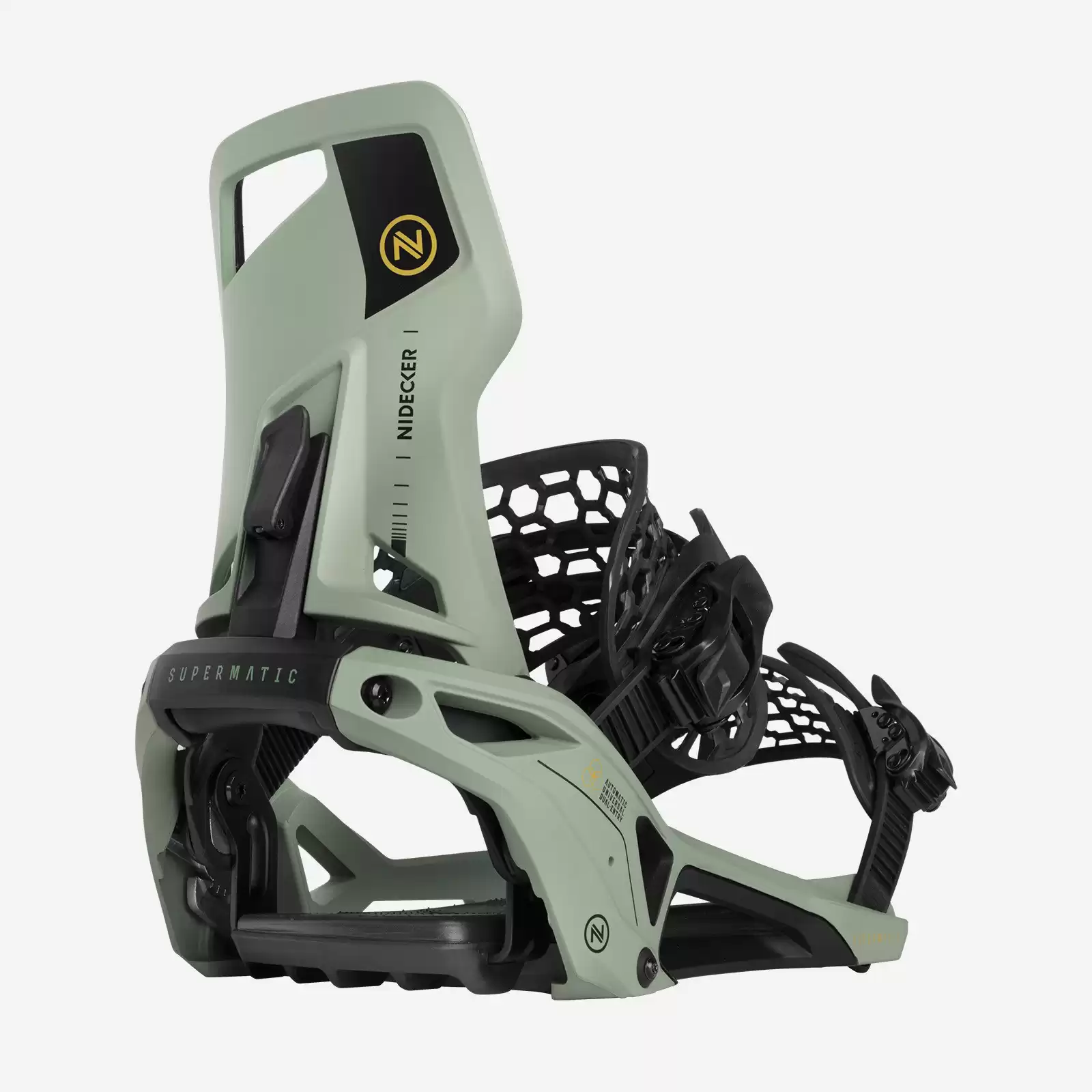 Nidecker Supermatics
Nidecker's innovative quick-release system is the best step-in solution available today!
Buy on nidecker.com
If you click, we may make a commission on any purchase at no additional cost to you.
---
Best for beginners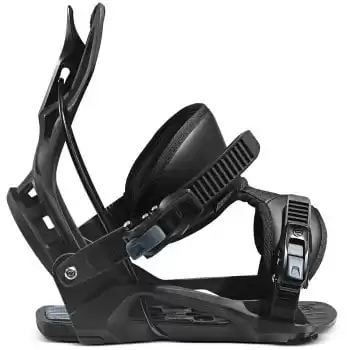 If you are just starting out snowboarding and want a quick and easy to use binding at a great price, then you can't go wrong with the Flow Nexus.
---
Best all rounder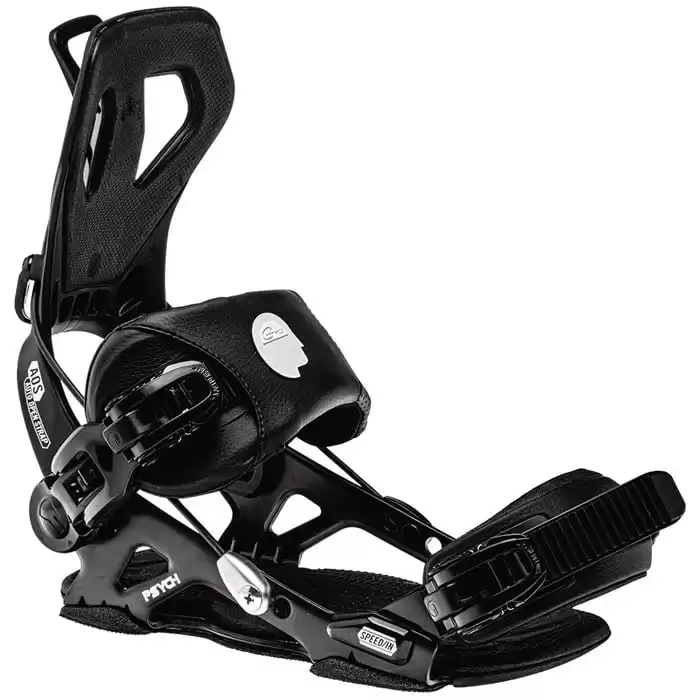 These bindings from Gnu are a true fusion between a traditional and rear entry bindings. Like traditional bindings they still have separate toe and heel straps. This gives more easy fine tuning than the single strap of many rear entry bindings.
Combined with the rear entry function this creates a really easy to use, convenient binding which has all the support of a traditional binding
---
Best high performance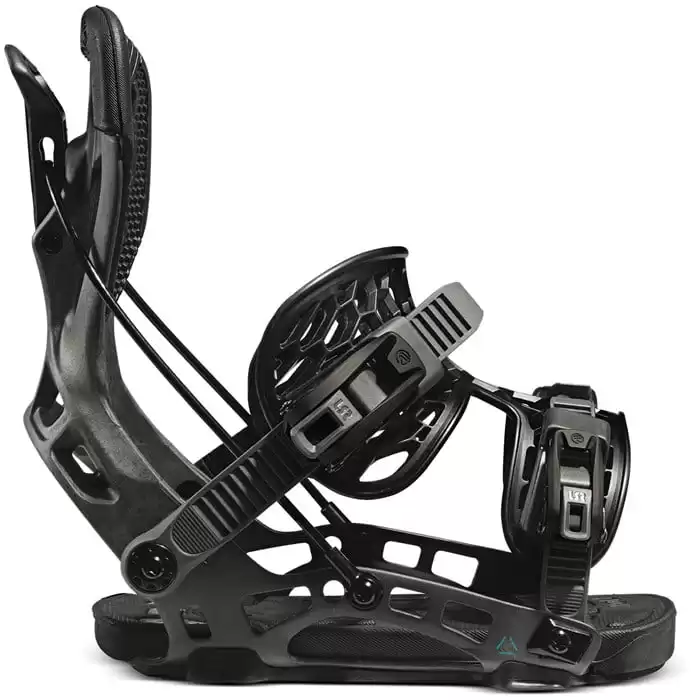 Rear entry bindings normally have a little bit more movement in them than traditional bindings. But these, top-of-the-range bindings from Flow are as stiff and supportive as any binding on the market.
A great choice for any advanced, aggressive free rider out there, looking for a high performance binding with the convenience of the rear-entry function.
---