This is my round-up of the best snowboard boots for the season 23/24. Snowboard boots are designed for specific types of riding and for a particular type of rider, so I have split my choice of boots into categories.
How did I choose these boots? I'm not able to test all boots out there, so I have compiled this information from a range of sources: from boots I have ridden, boots that I recommend to the people I teach to ride, boots that friends ride, and boots that I get recommended from friends that work in snowboard stores.
Best Boots for Beginners
When you are just starting out, you don't need a super tech boot. Beginner boots should be simple to use with a soft flex so that they are easy to manipulate. They should also be at a good price that does't break the bank.
Best Men's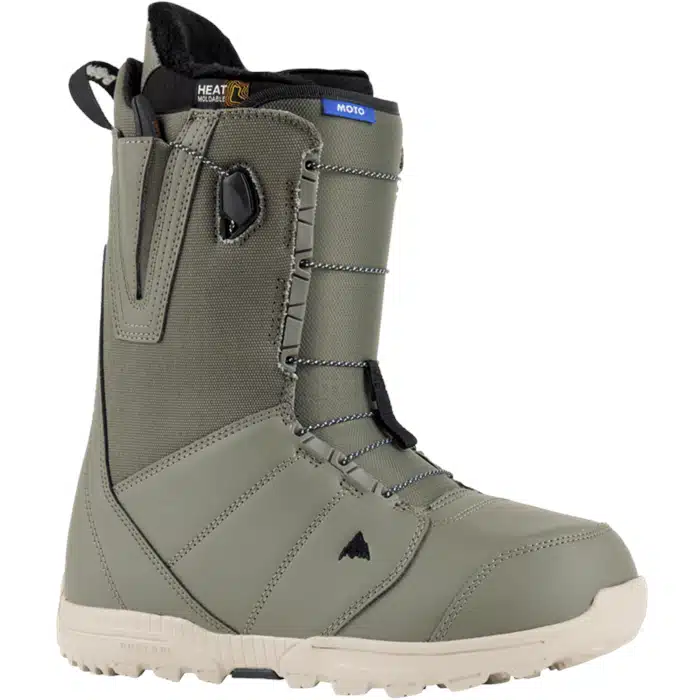 The Burton Moto is a soft, beginner snowboarder boot that comes in three different lacing variations: traditional lacing, Speed Zone lacing, and single Boa dial lacing.
I've chosen the Speed Zone as my favorite because you have separate laces for the upper and lower parts of the boot. This is the same system that Burton uses across their range, right up to my favorite boot, the Ions. The Speed Zone Lacing system allows you to easily adjust the upper and lower part of the boot so you can get a good heel hold at the bottom and leave it a little looser at the top. All without having to take your gloves off.
They also come with heat-moldable liners, giving you a snug, comfy fit.
Best Women's Boot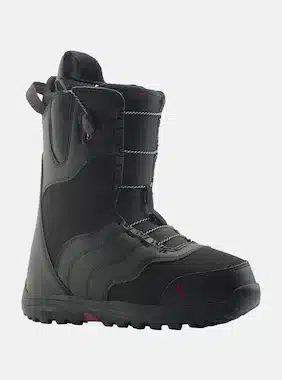 The Burton Mint Boa for women is a favorite among many, especially beginners. Its Seed Zone lacing system ensures a snug fit and allows for quick adjustments on the slopes.
Designed with comfort in mind, it's lightweight and offers a soft flex, making it easy for new riders.
These are my top picks for beginner snowboard boots, but you can read more of my other recommendations for best beginner boots 2024.
Best Boots for Freestyle
Freestyle boots are all about feel. They should have a mid-soft flex and a shallow tread outsole for maximum feel of the board under your feet. They should plenty of cushioning under your foot for absorbing impacts and a solid heel hold to keep your board responding to your movements.
Best Men's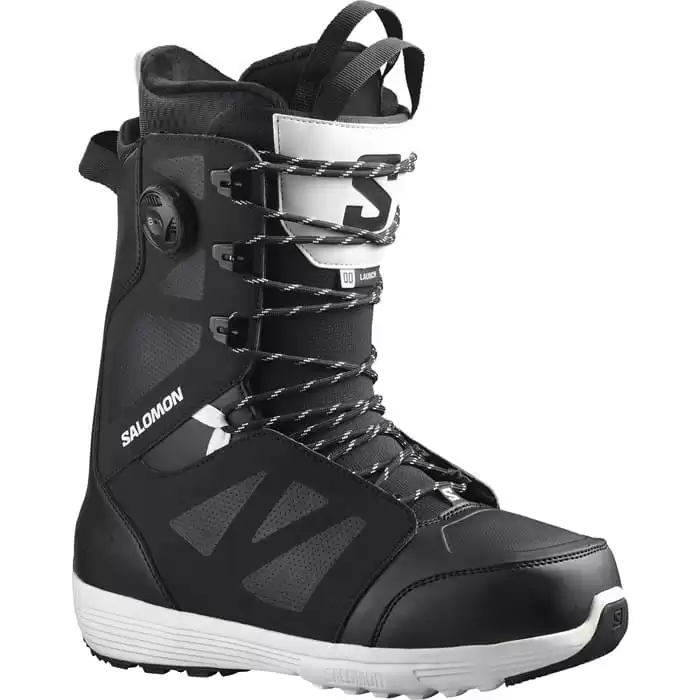 This is one of the longest-running and most popular freestyle-specific boots and the boot used by most of the Salomon team freestyle riders. It is available in a traditional lacing version of a double Boa version. Personally, I prefer traditional laces in a freestyle boot; here are some of its features:
What I like about this boot is that it really feels like it has been stripped down to reduce weight and concentrate on the performance features needed for park riding. Underfoot, I could feel the extra cushioning, while the reduced tread on the sole gives an excellent feel for the board.
Best Women's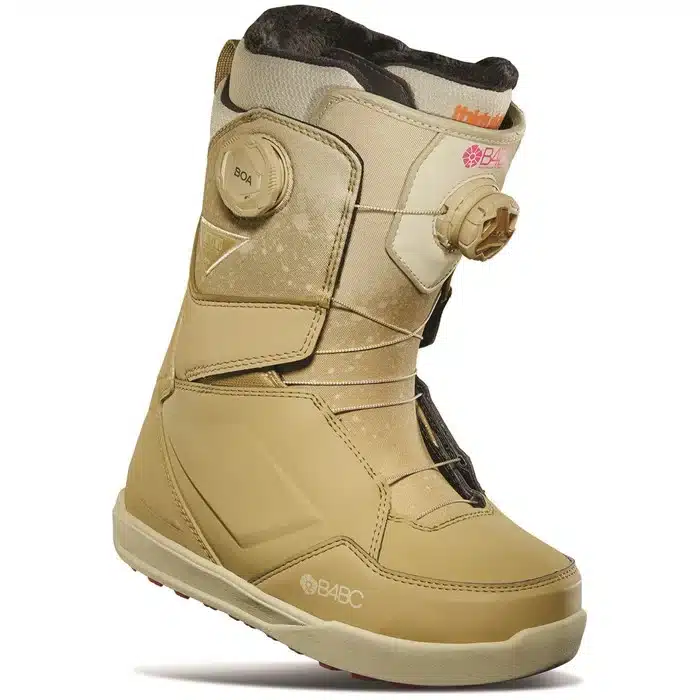 See my other picks for best freestyle boots 2024.
Best Boots for All Mountain
Best Men's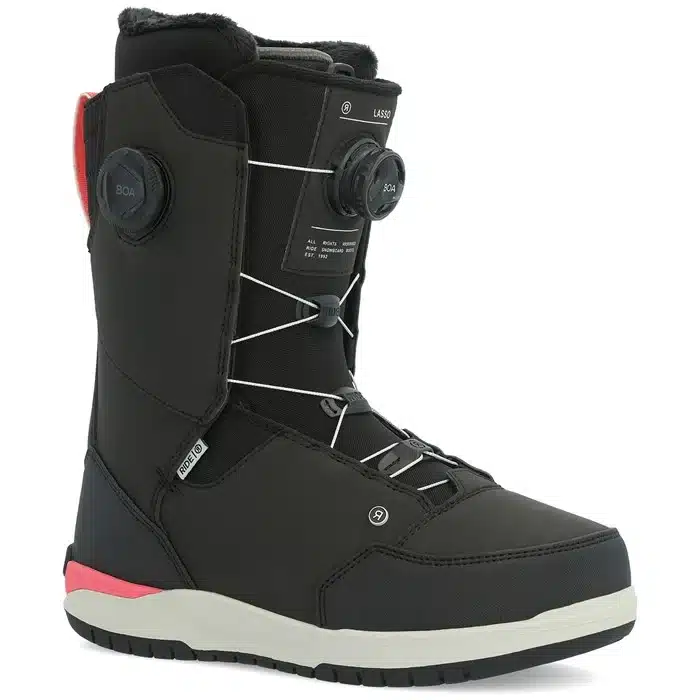 The Ride Lasso has earned its reputation as a top choice for snowboarders, thanks to its versatility and innovative tech.
Features:
Best-selling boot in the U.S., known for its adaptability.
Tongue-Tied Lacing System with nylon cables.
BOA Lacing System that ensures a snug fit.
Heat Moldable Intuition Liner for a custom fit right from the start.
There are lots of boots on the market with this kind of dual Boa, but I'm loving the switch from steel to nylon for the Boa cables in for the 2023 model; there is a little amount of give in the nylon that eliminates pressure points and makes the boot even more comfortable.
See my other picks for All Mountain boots 2024.
Best Boots for Freeriding
Best Men's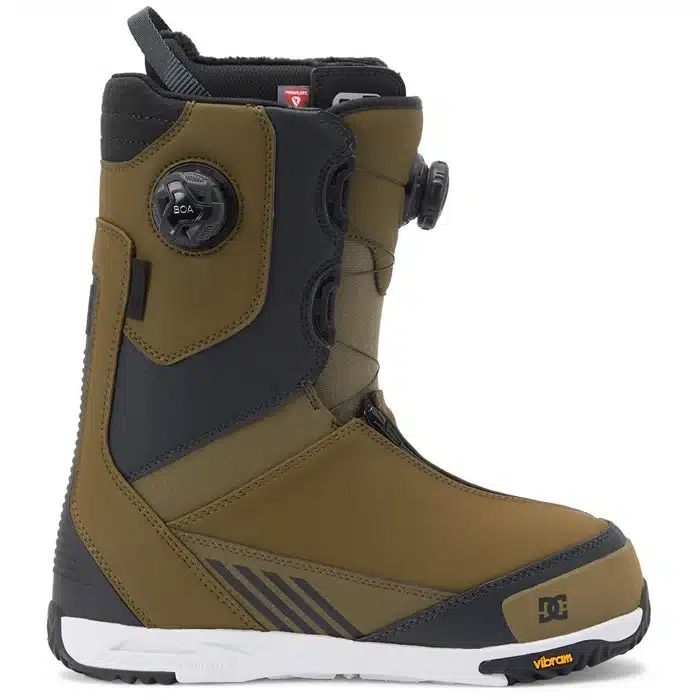 DC Transcend
Flex: 8/10
Lacing system: Double Boa
Buy on evo.com
If you click, we may make a commission on any purchase at no additional cost to you.
This is the boot ridden by arguably the best freerider in the world: Travis Rice. At an 8/10 it is not the stiffest freeride boot on the market, but it still gives plenty of support and response whilst allowing a little more movement to really push your turns
I really liked the super clean lines of this boot; they also have a storm cover over the laces keeping all the snow out.
Best Women's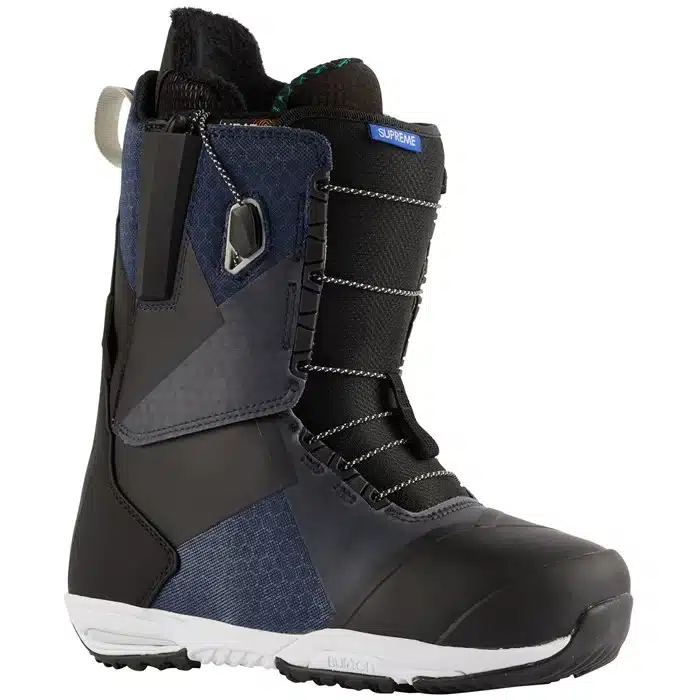 These are perhaps the most responsive women's boot on the market. If you are a hard-charging lady and have struggled to find boots you like, these could be the answer to your problems.
Burton's tried and tested Speed Zone lacing is still one of the best solutions out there for holding your foot and customizing your fit.
See my other picks for Freeride boots 2024.
Best Boots for Splitboarding
Splitboard boots are basically stiff, freeride boots with added features that make your life easier on the way up, leaving your feet warm and dry and you legs with a little extra energy for the way down.
Best Men's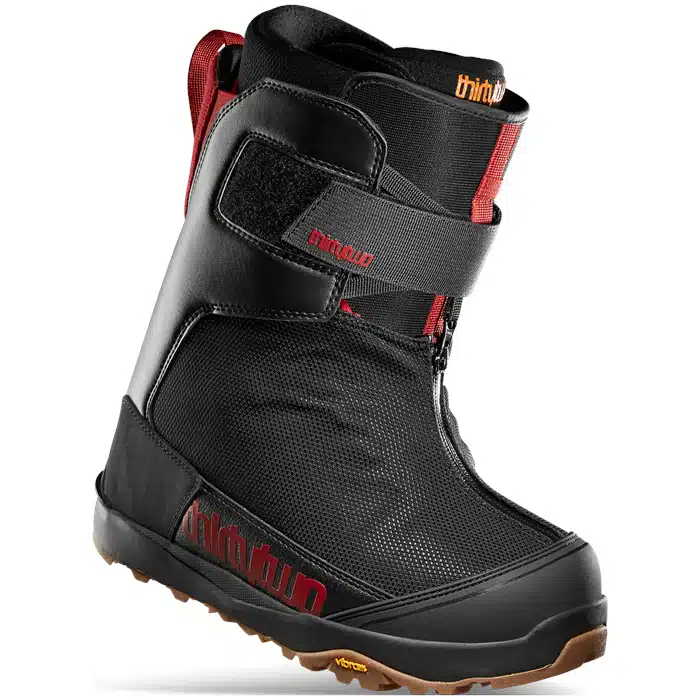 This boot is based around ThirtyTwo's hugely popular TM Two boot but is packed with all the extra features you could need for splitboarding: Walk mode that allows for longer stride length, Vibram outsole for increased grip when hiking, Crampon compatible for when it gets super steep, full-wrap gaiter to keep the snow out.
Best Women's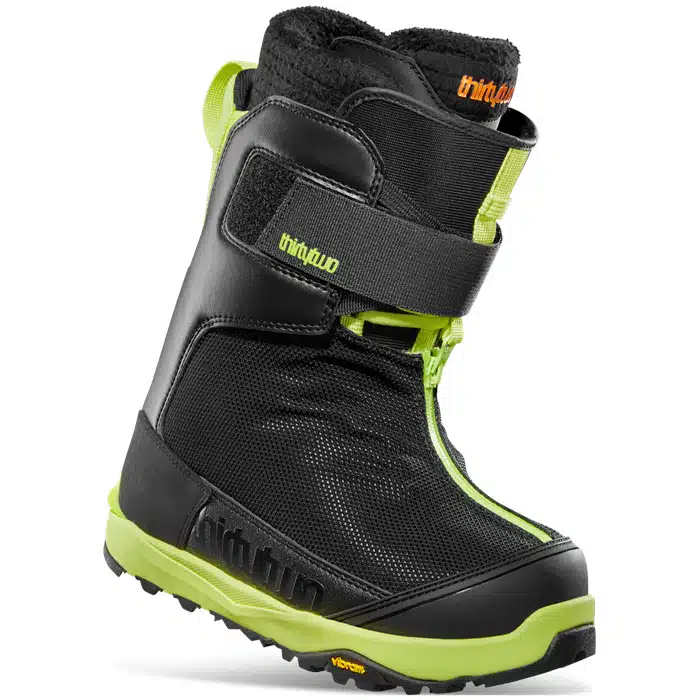 These are the women's version of the Jones boots above. Design in collaboration with super freerider Elena Hight.
See my other picks for Splitboard boots 2024.
Best Boots for Wide Feet
If your feet are a little on the wide side, then it can be difficult finding snowboard boots that are a good fit. Luckily there are plenty of wide options out there to fit your wide feet.
Best Men's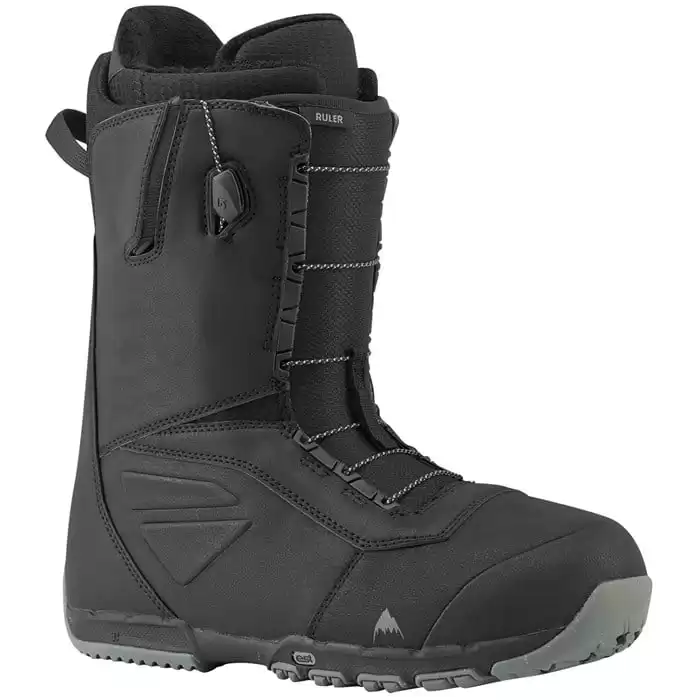 The Burton Ruler is one of the best selling mid-price, all-mountain boots on the market. And it also comes is a wide version. It has a mid flex and holds your foot in place with Burton's excellent Speed Zone lacing system.
See my other picks for wide boots 2024.
Best Budget Snowboard Boots
Best cheap boot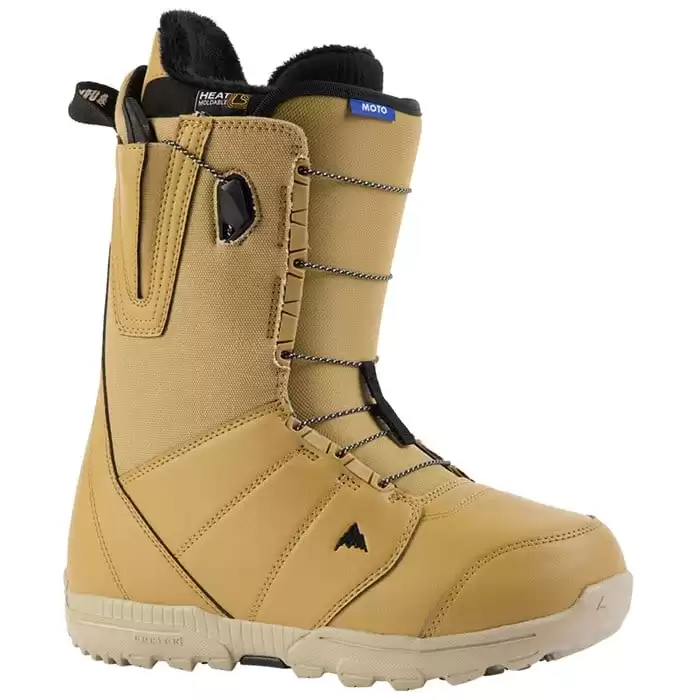 Once again the Burton Moto gets a spot on my best boots list. This is Burton's entry-level boot and although there are cheaper boots out there, you will struggle to find one that performs this well for at such a great price.
It has the same Speed Zone lacing system that you will find on Burton's top of the range boots and they are quality made to last the whole season.
See my other picks for best budget boots 2024.
Wrapping Up
I hope this list has helped. There are not many 'bad' boots out there, but it really helps if you know what you are looking for and what kind of riding you want to be doing. Getting the right boots can have a greater affect on your riding than getting the right board. So choose wisely! and happy shredding!