If you're a freerider, then it's worth considering getting a freeride-specific boot. These boots are designed to give a maximum amount of support and protection, so you can charge hard in the backcountry all day long.
What makes a good freeride boot?
Stiffer flex
Lacing system that provides good heel hold
Good traction on the outsole
Waterproofing and protection around the toe and lacing
Freeriding is all about having good control over your board, and that means you need a boot that can transfer all your movements straight to the board; This means they need to be stiff and hold your foot securely in place.
Sometimes, to get fresh lines, you will need to take your board off and hike, so you will need a boot with good traction, good waterproofing, and protection to keep the snow out.
Best Men's Freeride Boots 2024
Stiffest boot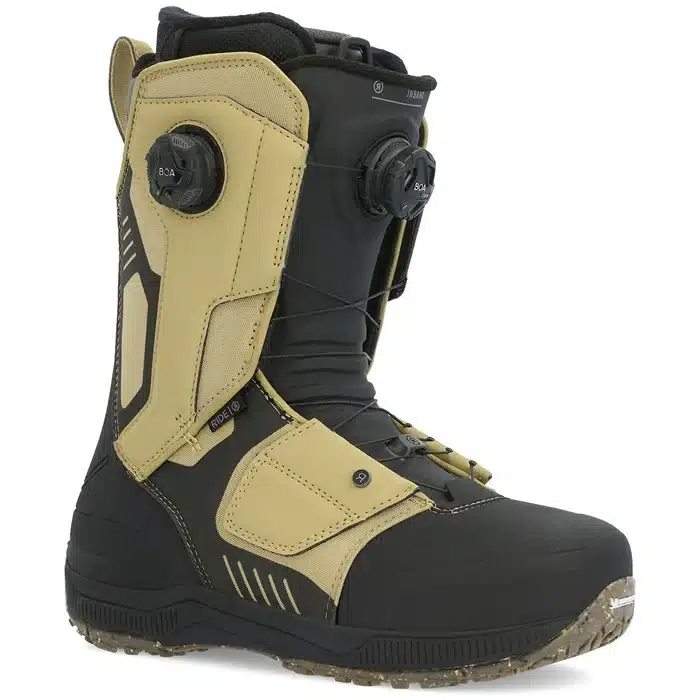 Ride Insano
Flex: 10/10
Lacing system: Double Boa
Buy on evo.com
If you click, we may make a commission on any purchase at no additional cost to you.
Ride claim this is the stiffest boot on the market!
What makes The Insano unique from the others on the list is the urethane-injected tongue. This beefs up the structure of the tongue as well as providing dampening and rebound. I could really feel this going into a toe-side turn, and it gave me loads of confidence to fully lean into the turns.
Super stiff boots
Double BOA closure system.
Features the Intuition Dream Liner, which is heat moldable.
Low profile design.
Dual BOA lacing system.
Supportive Fiber Reinforced Flex Slime Tongue™ with rebound.
Heat reflective foil to keep the feet warm.
Narrow heel pocket.
Hard ridge line cradle around the heel, arch support, and extra padding underneath the heel.
These boots are amazing for hard-charging! They are super stiff, and this gave me extra confidence go full speed into turns, even with my sketchy ankles! The downside of this stiffness is that it makes the boots less versatile for riding park or just cruising. But if you are looking for a pure freeride boot these could be for you!
I also liked the fact that they have an articulated cuff that will reduce the amount of wear as you felx into the boot keeping them stiffer for longer.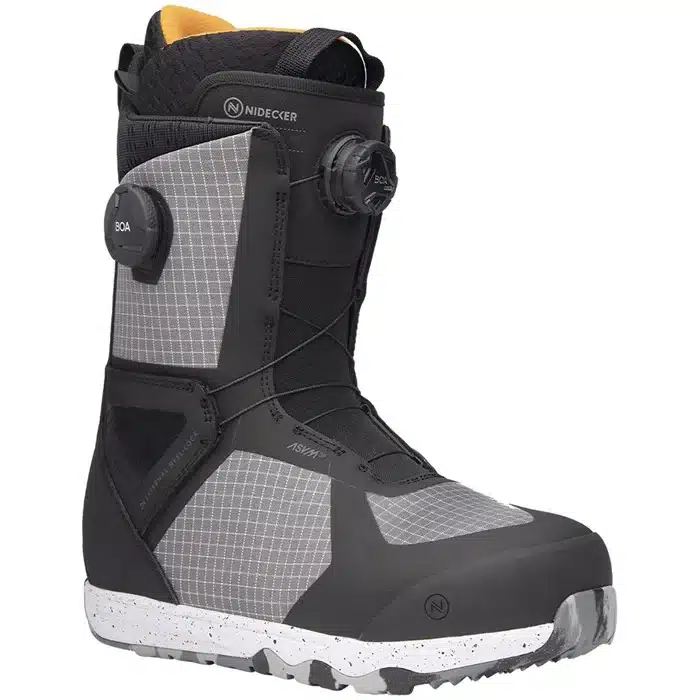 The Kita is another stiff boot for those who like to charge hard. It differs from the boots here in its Asymmetrical Design that shapes around the inside of the binding to give better power transfer.
Asymmetrical design
Welded, seamless construction to keep moisture out
Tough TPU shield around the front to protect toes.
External heel lock technology using the tongue Boa dial locks heels in place.
Ice track Vibram rubber sole for improved traction on cold and icy surfaces.
Top-of-the-line wrap-style Asymmetrical gold liner.
Fully heat moldable for customization.
The double Boa system differs slightly from that featured on many other boots. The upper and lower zone laces almost overlap around the ankle area, reaching further around the outside of the boot towards the heel. This means you get increased tension where it matters, giving better heel hold. I really noticed this on my first run when I overdid it a little, and my foot was going numb! I loosened off the bottom section giving some breathing room but still with excellent heel hold.
I didn't really feel any increase in responsiveness with the Asymmetrical design that is supposed to improve the boot/binding interface, maybe If I had ridden with Nidecker bindings such as the Supermatics this would have been more effective.
Best Freeride Boot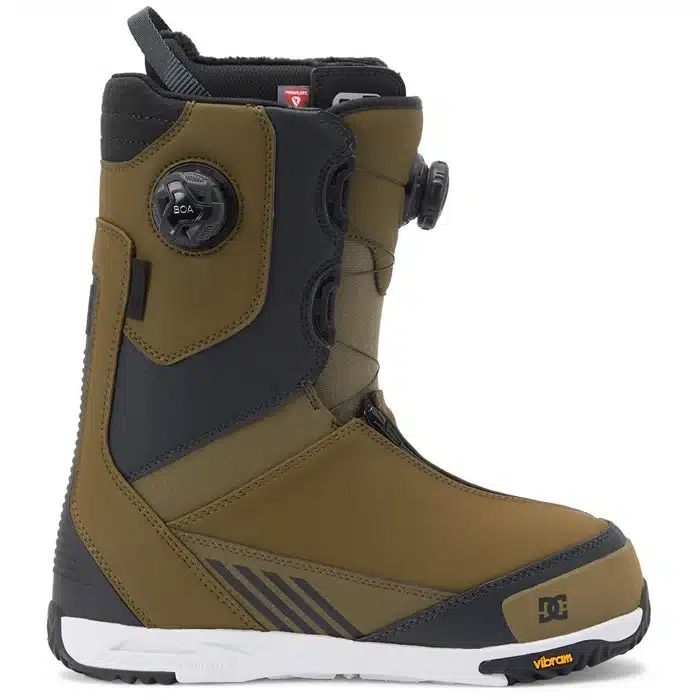 DC Transcend
Flex: 8/10
Lacing system: Double Boa
Buy on evo.com
If you click, we may make a commission on any purchase at no additional cost to you.
This is the boot ridden by arguably the best freerider in the world: Travis Rice. At an 8/10 it is stiff but not as rigid as some of the boots on this list, allowing for a little more movement.
Extra stiff design.
Super tweakable double boa system.
Features a storm-proof storm flap that zips over the top of the foot to keep out water.
Vibram outsoles for enhanced grip.
Reinforced with Super fabric allowing for season after season of hard riding.
3M Thinsulate insulation for warmth.
Inner harness that hugs the ankle and heel, providing support and locking the foot in place.
Stiff-flexing heat-moldable liner.
Double boa for a secure hold.
I really liked the super clean lines of this boot; they also have a storm cover over the laces keeping all the snow out. So this boot could double up as a splitboard boot if you are looking to get further into the backcountry.
At a 8/10, there is more give in them than some of the other boots on this list which I personally like. A good option for slightly littler or less aggressive riders.
This boot made it onto my Best Snowboard Boots 2024 list
Best medium Flex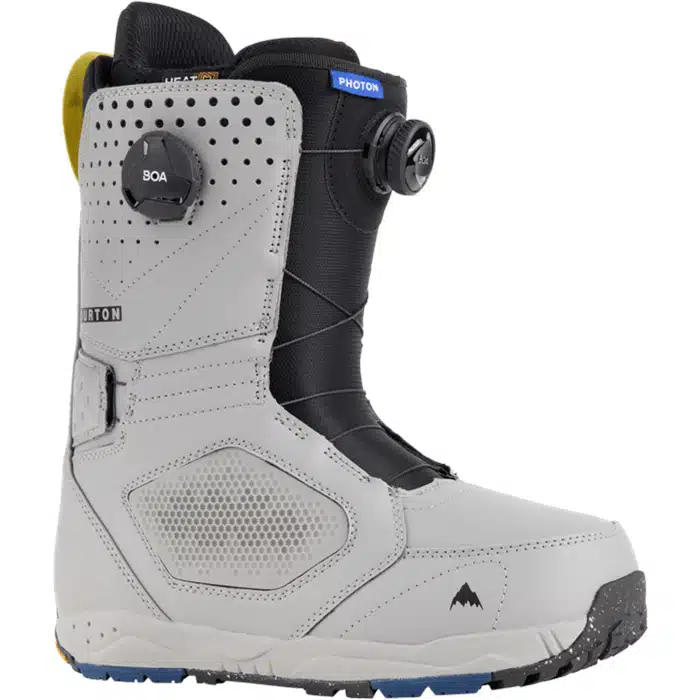 Burton Photon BOA®
Also available in a wide version an a StepOn version
Flex: 6/10
Lacing system: Double Boa
Buy Now
If you click, we may make a commission on any purchase at no additional cost to you.
The Photon is kind of rare among freeride-focused boots in that it has a softer, mid-range flex. Some riders prefer a softer flex, which gives a looser, surfy feel. Infact Burton have softened the boot further from last year, now at a 6/10 down from 7.
The double Boa reaches around the back of the boot at the heel to lock your foot in place, similar to the Nidecker Kita
Softer flex makes this boot suitable for intermediate to advanced-level riders.
Shrinkage Footprint Reduction Technology: Reduces the boot's footprint.
Dual-zone BOA lacing option.
Features support panels and a power-up tongue.
EST optimized outsole with Vibram Eco Step made of 30% recycled rubber.
B3 gel in the heel area for impact absorption.
Provides extra support with a tall focus cuff that secures the inner to the outer shell.
Reflective foil in the liner keeps heat in and cold out.
Imprint Three Liner: Lightweight, heat moldable, with external support panels and internal J panels.
These boots are my personal favorite, but I accept they may be too soft for a lot of committed freeriders! They really keep my heel locked into the back of the boot whilst allowing me to bend and flex into the boot. The Vibram sole really works well when hiking or boot-packing to the top.
A good choice for those looking for a softer more all-rounder snowboard boot.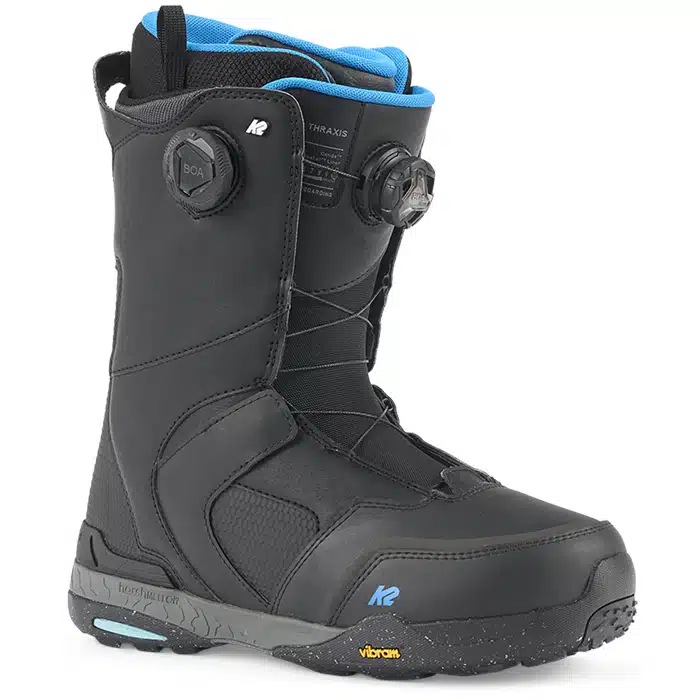 K2 Thraxis
Flex: 10/10
Lacing system: Triple Boa
Buy on evo.com
If you click, we may make a commission on any purchase at no additional cost to you.
This is K2's stiffest boot in the line. It has three Boa dials that allow you to finely tune your fit and gives great heel-hold. They are super comfy and warm boots that will allow you to charge hard all season long
Features three Boa dials: two target the outside and allow you to tighten the upper and lower zones of your boot independently. The third connects the Boa Conda urethane harness that pulls your ankle back and down around a 45-degree angle and holds your heel securely.
K2's most supportive liner, comprised of multiple densities of heat moldable foam. This allows the boot to be molded multiple times throughout the life of the boot.
Lined with breathable and heat-reflecting space heater material, ensuring warmth even on the coldest days.
Integrated with a 95% post-consumer recycled coffee mesh called S Cafe, which helps eliminate unwanted odor after a long day on the hill.
EVA and Harshmellow midsole, which helps absorb impact and increase the dampening of your ride.
Vibram V5 outsole gives excellent traction in the boot pack and is made from at least 30% recycled rubber.
I'm a huge fan of the triple Boa system! On a lot of boots, I often find the inner comes loose throughout the day meaning I have to open up and pull on the drawstring. The third Boa on these boots tightens around the inner, meaning I could give an extra crank on the tension whenever needed.
Best Women's Freeride Boots 2024