Carving on a snowboard is probably the most fun you can have without leaving the ground. The feeling you get when you really lean into a turn is hard to replicate in any other sport, and in recent years turning has become cool again!
To do a really good carve turn, you need a board that is made for the job. A soft, twin-tip board will buckle under the pressure of your turn.
This is great news for riders of a certain age who might not feel confident mixing in the park with the kids anymore. A good turn is pretty much all I've got these days, so the groomers is the only area where I can still throw some shade on the kids!
However, to do a really good turn, you need a board that is made for the job. Here I'll outline my favorite boards for carving in 2020/21 but be sure to also check out our snowboard size calculator to find the board that is best suited to you.
My Pick of the Best Carve Snowboards in 2023/24
Unlike many brands, Nidecker produces a few boards that are primarily designed for carving. The Blade Plus is their most aggressive and advanced carving board!
I rode this board in conditions that were a little softer than ideal, but I was still able to get it to really lock into some turns and dig some trenches. You can take it easy just cruise on this board, but to get the most out of it you need to push it and you need to have good technique. It took a bit of adjusting but fter a few runs I was able to really trust the edge grip and turn harder and faster than I ever have on a snowboard
To get the most out of this board you need to push it and to have your carving technique on lock!
This type of high performance carving is made possible by the premium materials that are packed into the board. Unlike traditional board construction the Blade Plus doesn't have a top sheet, instead it is just a pure carbon wrap around the sandwich construction that increases the stiffness and drops the weight. It also has layers of triaxial carbon that improve its torsional rigidity so it won't buckle under pressure in the turn.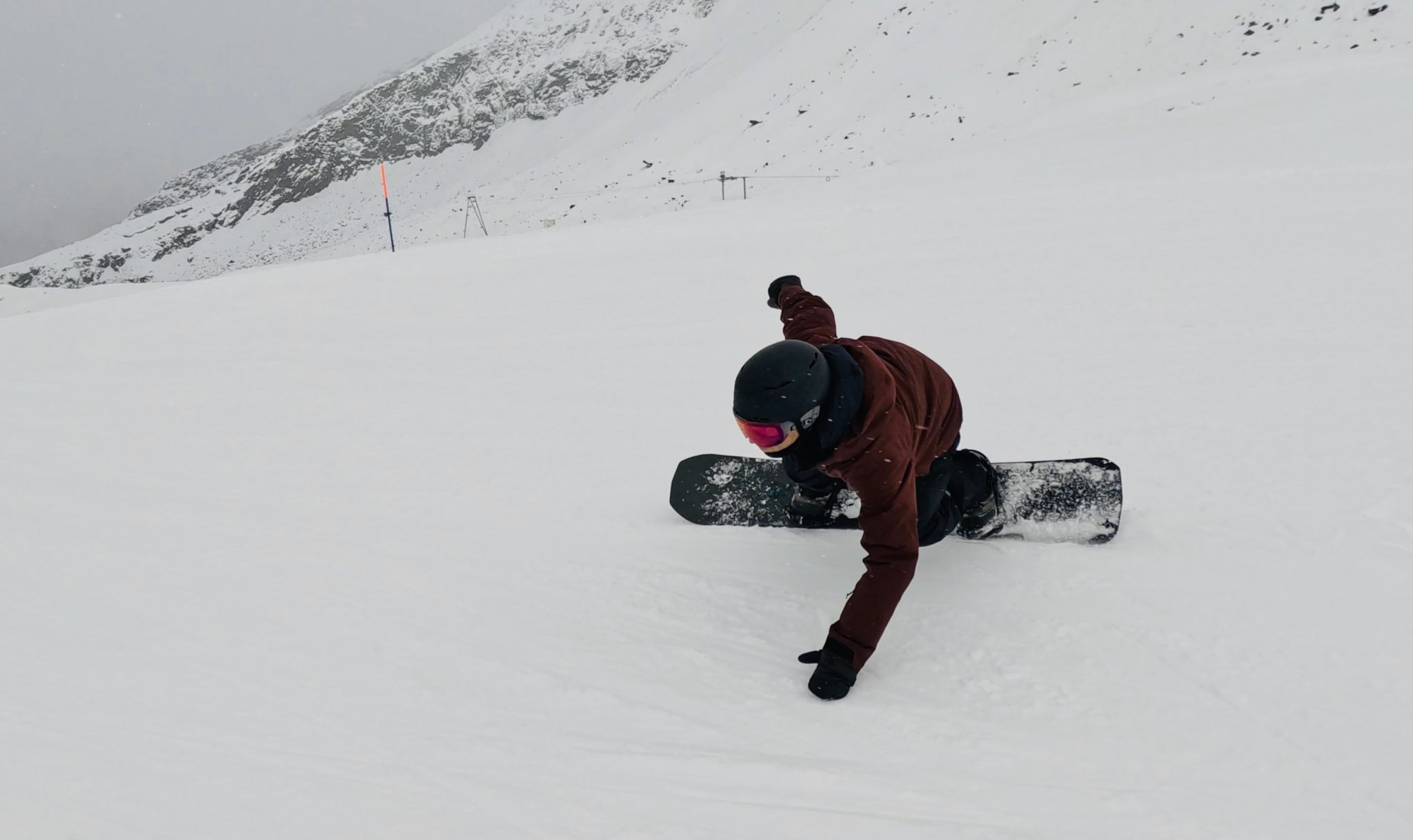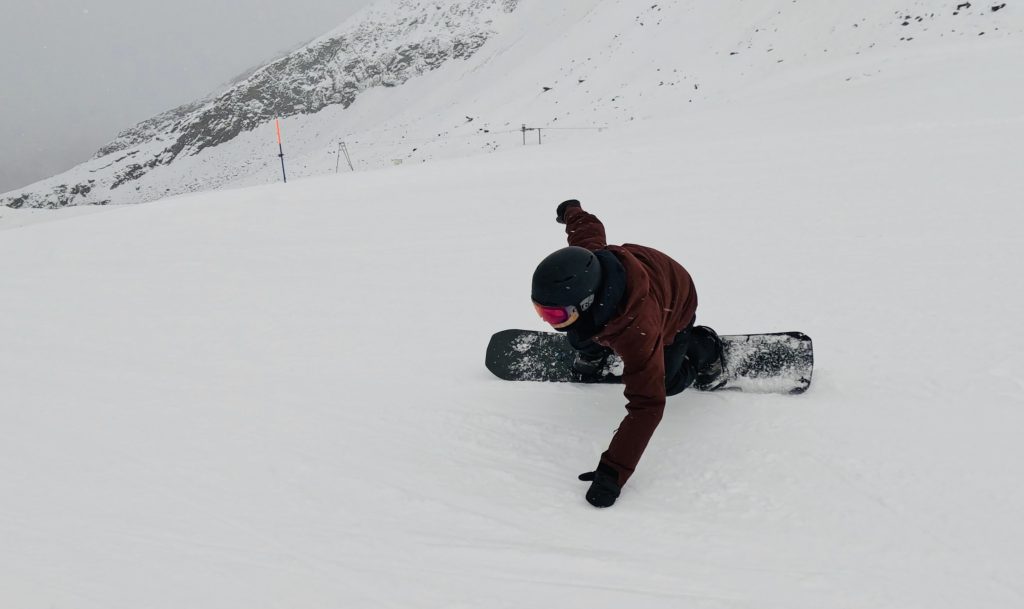 The base is also super fast. The run I was testing the board on had a flat top section that I was gliding over whilst the skiers were having to push!
Who's this board for?
This board is by no means a board for all conditions, but if carving is your thing then I son't think you'll find a better board. This is a pure carving weapon! To get the most out of this board you need to be on first lift to score the corduroy groomers and be done by lunch! No powder, no park just super fast, technical carving!
This board is a new addition to the Jones lineup for 2023/24 and is the only board that Jones produce that is purely focused on carving. The board comes in two different versions: the 6000 and the 9000. These numbers refer to the turn radius in mm. The 6000 is designed to make tighter turns at lower speeds, whereas the 9000 is designed for bigger turns at higher speeds.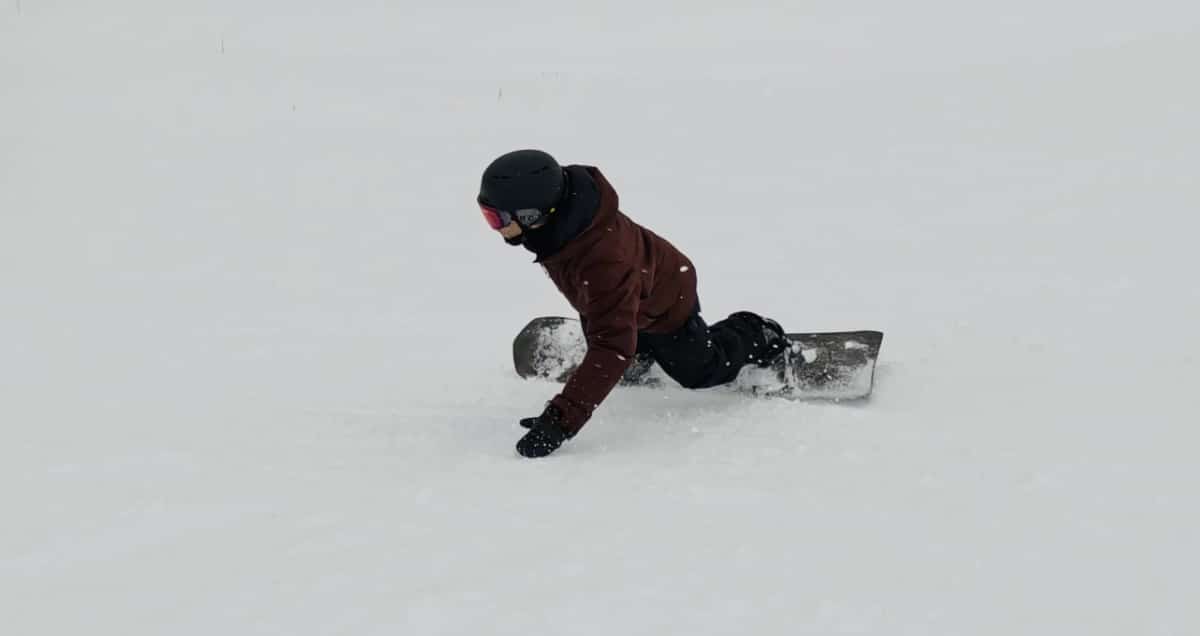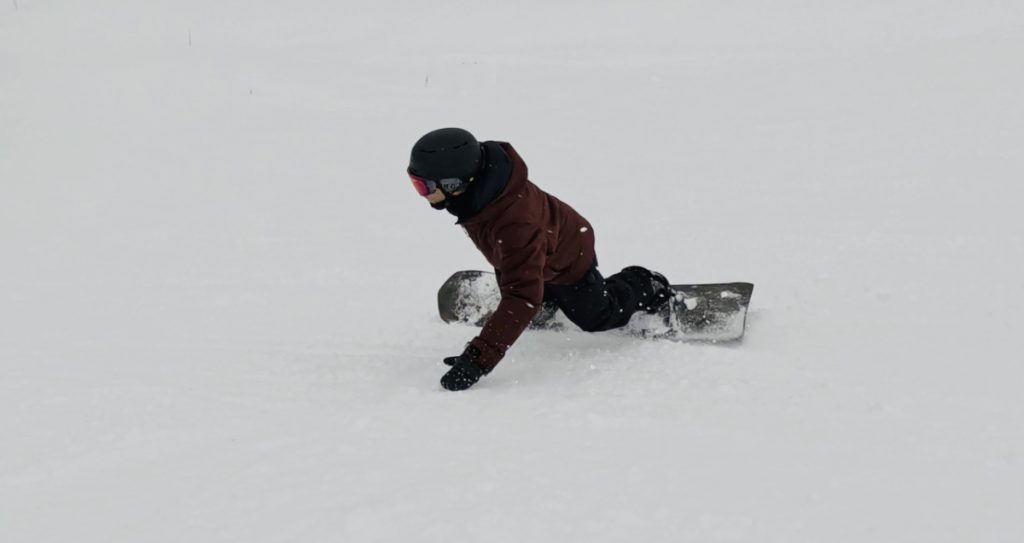 I've ridden both boards, and even though they have lots in common, they feel totally different. I picked the 6000 here because it feels like no other board I've ever ridden!
I found the 6000 difficult to ride at first but once I had adjusted to the super tight radius, it was a blast!
The 6000 is super fun on a cruisey slope, just leaning in over into mellow carves. 6m is the tightest turn radius I have ever ridden, and it took me a while to get the feel for it. You really don't need to ride fast to generate heaps of force! Once I got the feel of the board I started hunting out banks on the slope to turn against, because of the tight turn radius, it almost felt like skating a bowl! The other thing that surprised me about the 6000 was how soft it was. It was definitely the softest flexing board on this list and felt more like a freestyle board. Torsionally, however, the board is bomb-proof!
To see the kind of riding that the 6000 is designed for watch the video below, where Jeremy Jones takes it out for a couple of laps
Although these boards are solely designed for carving, there is a little bit of innovation that makes them more versatile in other kinds of riding. As you'd expect, the board has a full camber profile, but at the nose of the board, there is a slight spoon shape to the base that lifts the contact point slightly off the snow.
This makes the entry to the turn slightly more forgiving and doesn't hook into the turn quite as much a say the Nidecker Blade Plus. This also opens up the board to more types of terrain and chopped-up snow conditions.
Who's this board for?
As I said before, the 6000 is not a hard-charging board, but it is a board that you need to have good technique for, in order to ride it to its full potential. So I'd say this is a great board for someone who really enjoys the sensation that a good carve turn gives but is not looking to ride super aggressively. Or if the terrain at your local resort is pretty tame, with this board, you'll still be able to dig some trenches!
This board from K2 is a super fast, super stiff carving machine! It is primarily designed as a freeride board for fast charging in powder and chopped up snow but its stiff flex and ultra fast carbon, sintered base makes it one of the best carving boards out there.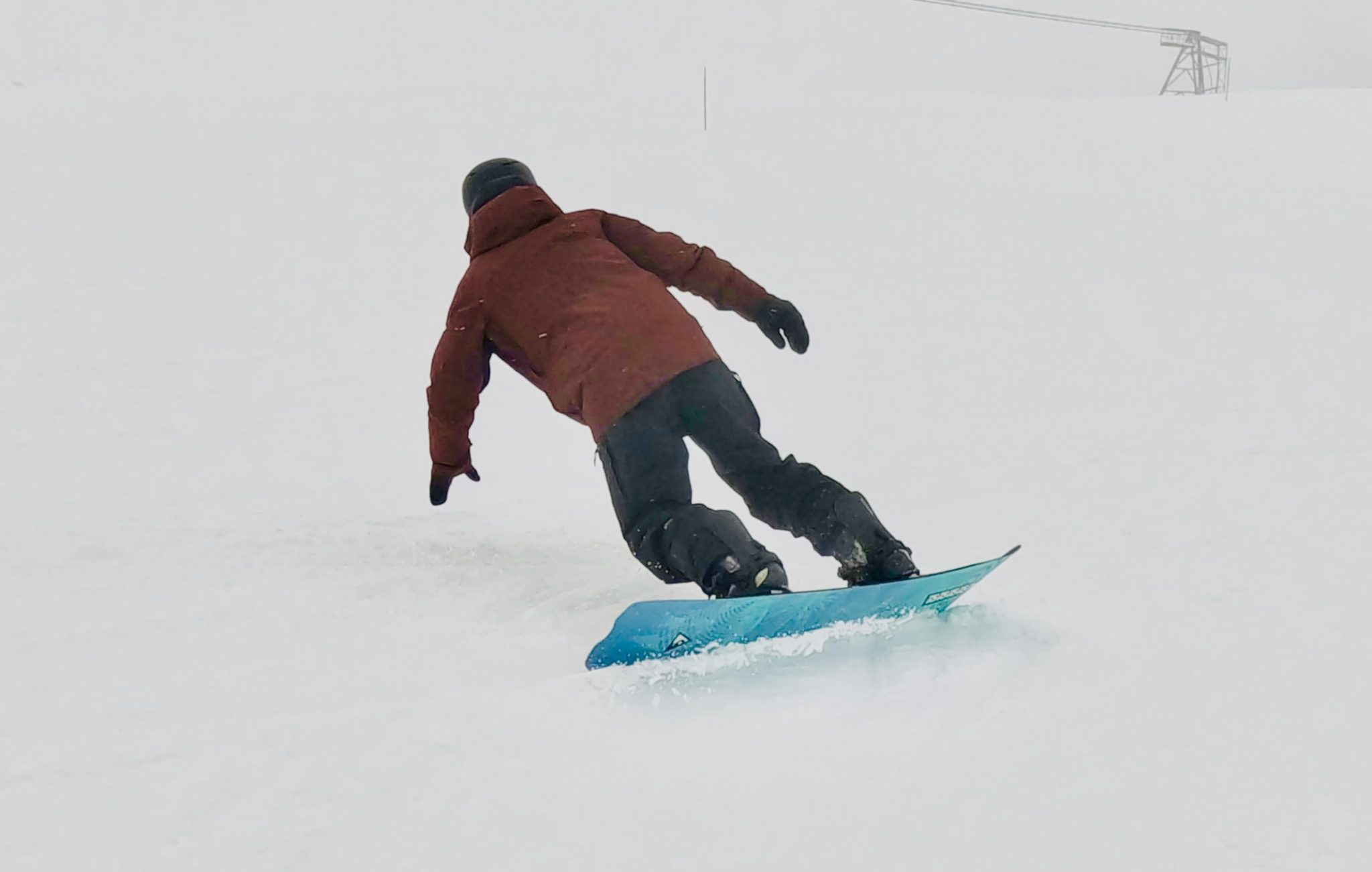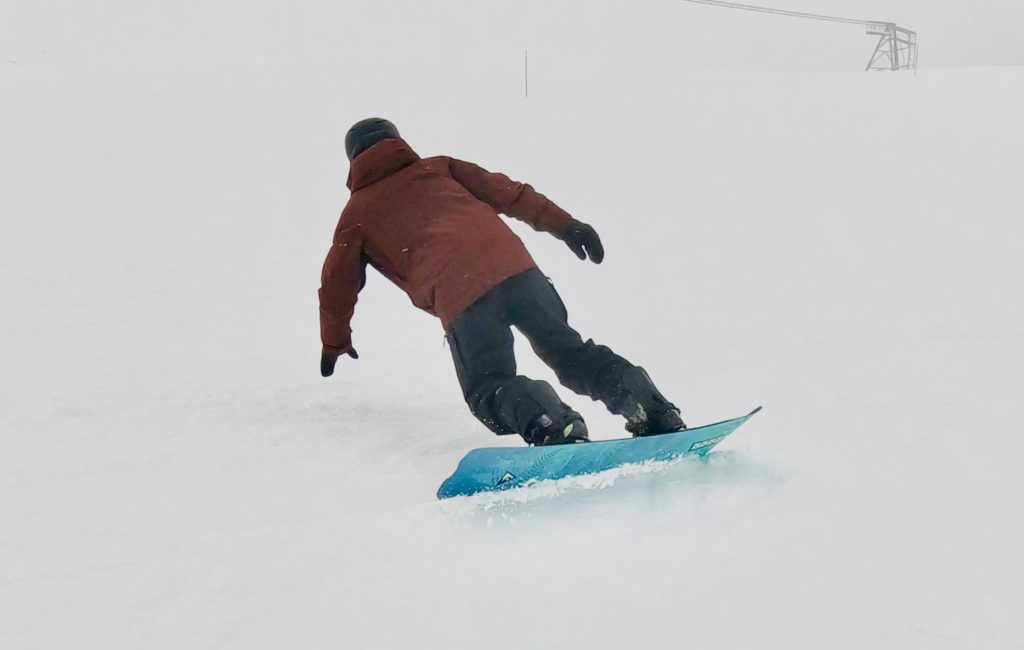 The board's core is made of eco-friendly bamboo, which is durable and poppy. This is wrapped in a cross-laminate carbon weave to add rigidity. The angle of these laminates is finely tuned to produce a super stiff nose and tail and a slightly softer torsional flex between the bindings. This result is a stiff board with a tail that gives plenty of boost out of the turns but which is softer to twist between the bindings to ease the turn initiation.
I jumped on this board after testing the Jones and the Nidecker, and straight away felt at home. Despite it still being a super stiff board, it felt much easier to ride than the other boards I've ridden that day. It locks into carves super well, but is a little easier to initiate the turns thanks to the rocker in the nose that shortens the effective edge.
It has camber between the feet with early rise in the nose for when you start hitting the soft snow. On the groomers, it feels pretty centered with the rocker in the nose being offset by the directional shapes, which shifts the bindings back towards the tail.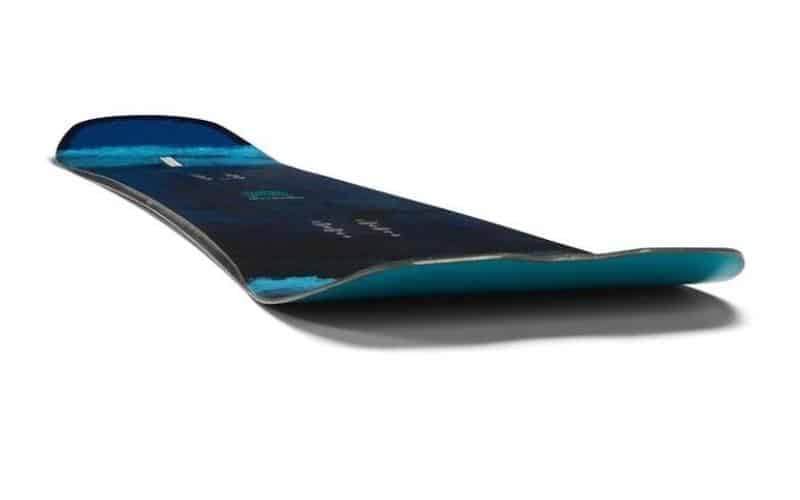 New for 2023, K2 have reduced the thickness of the core in the nose, which helps reduce swing weight and makes it easier to throw in a couple of 360s between carves!
Pro rider and Olympic gold medalist Sage Kotsenburg's freeride board of choice!
Who's this board for?
This board carves amazingly well but that's not all its good for! This board is a great powder board and would also not struggle in the park. It's a great choice for an aggressive rider that like to carve up the whole mountain, but rather than a dedicated carve board, is looking for a board that can do it all!
The board is kinda a traditional camber board except that Arbor have developed parabolic camber so that the amount of curve gradually decreases toward the tip and tail. This creates a smooth turn initiation and a more catch-free ride.
Grip-Tech edges are Arbor's version of the protruding bumps on the edges under the toe and heel. This gives the edges extra bite at the points under the bindings where you are able to create the most pressure.
It has a flex rating of 8/10, a directional shape, and a large turn radius, all of which make it perfectly suited for high-speed wide turns.
Who's this board for?
This board is for someone who what's to spend their days going forwards and going fast! Whether that be carving turns on the groomers or charging powder lines. This board it designed to go fast and hold an edge, but also float up in deeper snow.
The Ride Smokescreen was a new board for 2021 and is now back for 2024. Ride have aimed the board at riders who are into carving around the mountain and occasionally hopping off into some powder.
It has a directional shape with a slightly wider nose than tail. It is a predominantly camber board but with an early rise in the nose. It also has a progressive sidecut radius, with a mellow straighter edge side cut at the front of the board that tightens as you move along the edge.
The sidecut, combined with the rocker in the nose, allows for a super smooth and easy turn initiation, which then starts to bite as you move through the turn, finally giving plenty of pop out of the turn and into the next.
Under the bindings, there are carbon stringers at 45-degree angles that add torsional stiffness, and give a solid edge hold at higher speeds.
Who's this board for?
This is another board made for the pow and groomers. The carbon stringers give loads of pop out of the turn which makes carve turns at slightly lower speeds loads of fun. Maybe not a board as hard-charging as, say the K2 Alchemist, but more suited for mid-speed, playful carving
This one is a little bit different from the other more classic shapes on the list. Bataleon are known for its Triple Base Technology, which is an example of 3d snowboard shape. This creates a kind of spoon shape in the nose and the tail of the board to reduce the chance of catching edges and make the ride more playful. This is great for freestyle boards, but does that work for carving? I thought it didn't…until I tested the board out last winter. The board has a full camber profile, meaning it is super grippy where you need it in the middle of the board. Then the Triple Base only starts at the tip and the tail, making a super easy turn initiation.
The result of this is a really fun board if you want to start mixing up your carving with a few butters and switch up moves. It might not be quite as high performance as the other boards here, but for me, it was probably the most fun I've had riding on the groomers.
The only drawback with this board is that it is only available in 158cm. This was a little long for me, but if that's your size then you should definitely give it a try!
---
The Nitro Quiver Banker has been designed by Nitro pro rider Bryan Fox, specifically to ride in the legendary competition, the Mt Baker Banked Slalom. So it's no surprise that this board turns well and goes fast!
Like all the boards on this list, it has a directional shape, but unlike the rest, it is mid-wide. The extra width helps with carves because you can really lean the board over without fear of catching the heel or toe of your boot in the snow.
Like the Ride Smokescreen, it has a progressive sidecut so that the turn radius starts off mellow at the front of the board, then tightens toward the back. This can be good for carving because it helps you ride out the tail of the board at the end of the turn and creates lots of pop into the next turn.
It has a full-length camber, so it is not as versatile in the powder as some of the other boards here that have rocker in the nose. On the flip side, this makes it more of a pure carve machine.
Do you need a carving snowboard to be able to carve?
It is possible to carve on any snowboard, even the softest flex, rocker board. But if you are not on a board that has the right kind of camber and a little stiffness, then you will only be able to do mellow, low-speed carves unless you are on a board that has the right camber and with a little bit of stiffness on pretty much any board.
Once you start to push your carve turns to either higher speeds or greater angles, a soft board will start to skip out and you will lose edge grip.
On the other hand, a real high-performance carve board won't be much fun in the park or just jibbing around on the mountain. For this reason, I've categorized the boards into pure carve boards and all-mountain carve which will be more suited to the all-rounder snowboarder.
What makes a good snowboard for carving?
There are 3 characteristics you should look for when picking a board for carving: A stiff flex, a traditional camber, and a directional shape.
Flex
When you lean the board on its edge at high speed you are putting a lot of force through the board. If it can't handle this, then the snowboard will start to skip out on its edge, putting the board into a skid and losing the carve. For this reason, you want a board that is stiff and strong enough to handle the pressure of your turns. A carve board needs to be stiff both along its length and torsionally. A board that is stiff along its length will have lots of pop and energy out of the turn, torsional rigidity will help prevent the board from buckling and keep the edge fully engaged with the snow throughout the turn.
Most brands rate the stiffness of their board on a scale from 1 to 10, you want to only consider boards with a 7+ rating. This can also vary a lot between brands, so if the brand makes mostly freestyle boards then maybe push it up to an 8 or 9 rating.
Another variable is the flex pattern along the length of the board, many pure carve boards have a directional flex meaning that the board is slightly stiffer in the tail. This helps give extra grip through the bottom of the turn and some extra pop when transitioning between turns.
You should also try and match your boots and bindings to the high demands of a carving board. This means stiff snowboard bindings which are good for carving and boots with enough support to hold your foot in place when you lean into the turns
A directional shape

Carve boards should have a directional shape, this means they ride better in one direction than the other making them better at carving but not so good at riding switch. A twin-tip board will have its waist (the narrowest point of the board) right in the middle along its length. A directional board will have the narrowest point moved slightly backward so that the nose is longer than the tail.
This is reflected in the binding mounts which are also slightly set back so that your weight is still positioned over the waist of the board. Again, how directional the shape is is another area of compromise. Boards which are more close to a twin tip will be more versatile if you want to go into the park or ride switch.
Camber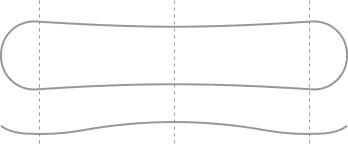 Traditional camber boards are better for carving than rocker boards. There are loads of different camber shapes out there these days, but for carving, you want to keep it simple with a traditional camber board, or at least a board that has some camber between the bindings. Camber boards have a concave bend in them when they are set on the could so that the board rests on the tip and the tail with the middle of the board raised slightly off the ground. This gives the board built-in resistance to the turn and creates extra pop and energy when transitioning between turns. The bend in the board also pushes down in the tip and the tail to help keep the edge in contact with the snow through the turn.
I would say, out of all these factors, a board with a camber profile is probably the most important if you want to lay out clean carve turns.
If you want to carve well, then you'll also need a pair of stiff boots to match the stiff board.
Width
When you carve a turn, you put the board on its edge with a high edge angle, and if you really lean the board over then, you can start to feel your toes or heels dragging in the snow. When this happens, it inevitably puts you onto your butt/face, so you want a board with a bit of extra width, which gives a bit more room for your snowboard boots to fit into. You don't necessarily need a 'wide' snowboard, but if your shoe size is US10, then you probably want something with a waist width of 260mm at the least.
The downside of a wide board is that they make the transition from edge to edge slower, so instead of a wide board, you could increase the angle of your bindings. This is what slalom racers do, so they are able to have a narrow board that is quick and responsive but they avoid heel and toe drag in the turn. However, this can lead to other problems with your weight transfer which is why slalom boards also have an asymmetrical shape.
My advice would be to go for a wider board rather than mess around too much with your binding angles.
Length
When picking a board for carving, you also want to consider the length of the board. Longer boards will carve better as you have a longer edge in contact with the snow. Whilst longer boards are better for carving; you don't want to pick a board that is too long. This can make the board hard to ride at low speeds and to do quick short turns on. So I wouldn't go longer than 2-3 cm past your recommended length It comes down to a choice between two sizes, I would pick the longer one.
Speed
Finally, if you really what to get into carving then you need a board that is fast! The fastest snowboards are boards with high-grade sintered bases, which you will find on all boards meant for carving. Just make you keep it waxed!
How I picked these boards
These boards meet all the requirements which go into making a great snowboard for carving. I've deliberately not picked pure carve boards, which you might see on an icy boardercross track or a GS racecourse. For the vast majority of riders out there, this style of board is too demanding and not versatile enough to be able to make the most of the trails around your typical resort.
These boards are more piste-orientated, all-mountain boards that carve great but will also work well in soft snow and powder. In my experience, this is a compromise worth making in order to get the most fun out of your typical day on the hill!
Some boards that didn't quite make the list
These days choosing a board is not easy! There are so many good boards out there for every kind of riding, so sometimes it's hard to make a choice. These are some of the boards that nearly made this list.
K2 Excavator is similar to the Alchemist but a shorter, wider version. It's great for carving but less high-performance than the Alchemist.
Ride Peace Keeper is new to this year and similar to the Smokescreen but a shorter, wider version. It's been developed by pro-rider Jake Blauvelt as a more resort-based charger than his other pro-model – the Berzerker. Definitely worth checking out!