If you're a dedicated park rat, then it's worth considering getting a freestyle-specific boot. These boots are designed to give a maximum amount of freedom of movement whilst supporting your ankle and protecting you from big impacts. They may not be as versatile outside of the park as an all-mountain boot, but can often save you a few bucks if you are all about lapping the park!
What makes a good freestyle boot?
As so much of the fit and feel of a snowboard boot comes down to personal preference, not many boots on the market are purely freestyle focused. In a way, this is good news as it means you can still use your park boots all over the mountain!
That said, there are several features that you should look for in a freestyle boot that will make it easier to perform tricks and reduce the chance of hurting your feet when you stomp a landing. These are:
Softer flex
Zonal lacing system
Cushioning under the foot to reduce impact
Good heel hold
Best Men's Freestyle Boots
Best Freestyle Boot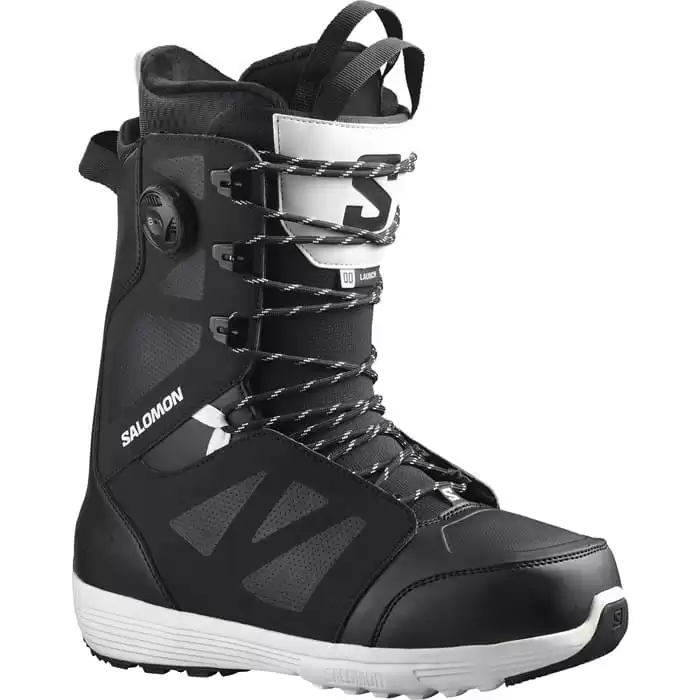 This is one of the longest-running and most popular freestyle-specific boots and the boot used by most of the Salomon team freestyle riders. It is available in a traditional lacing version of a double Boa version. Personally, I prefer traditional laces in a freestyle boot, here are some of its features:
Oversized eyelets to lock out different sections
STR8JKT Boa® jacket holds heel down
EVA and rubber compound lightweight and cushioned outsole
Stripped down sole to keep weight down
heat-moldable sections
fit-to-ride reduces unnecessary bulk to increase feel
What I like about this boot is that it really feels like it has been stripped down to reduce weight and concentrate on the performance features needed for park riding. Underfoot, I could feel the extra cushioning, while the reduced tread on the sole gives an excellent feel for the board.
The only slight negative is that there is no real articulation at the flex point in the ankle. This could lead to the boots wearing out faster.
This boot made it onto my Best Snowboard Boots 2024 list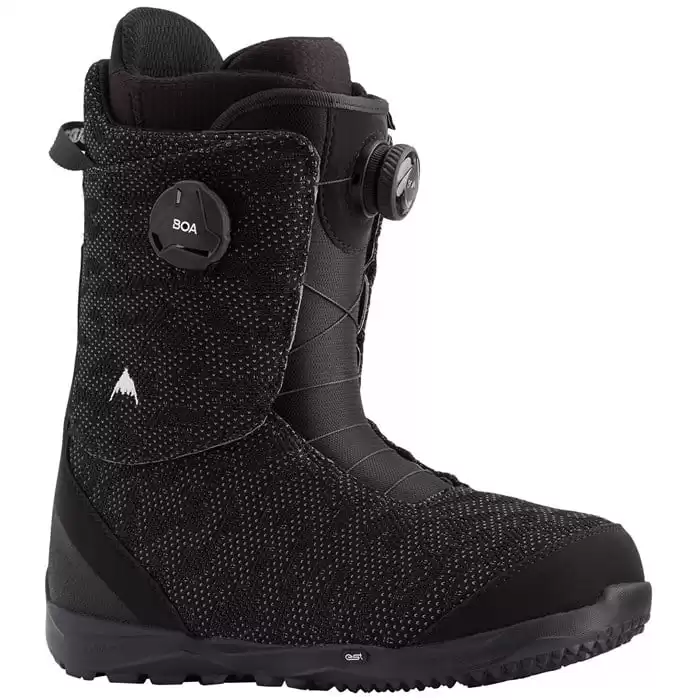 This is a relatively new boot from Burton that covers a lot of bases; it has a bunch of features that make it great for freestyle, but thanks to its quality materials and construction will also serve you well all over the mountain. This boot comes in a Boa or a Speed Zone lacing version. I opted for the Speed Zone as thats what I'm used to riding in boots from Burton. It's super easy and reliable and a little cheaper than the Boa version.
articulated cuff
Dynobite thin outsole for better feel
Re bounce cushioning along the full length of insole
imprint 3 liner
I love riding boots like this with a full articulated cuff that gives a friendly, progressive flex when landing jumps. They also feel super light, and I guess, maybe the lightest boot on this list.
The only downside it that at 350 bucks, they are a little pricey for a freestyle boot.
Best stiff boots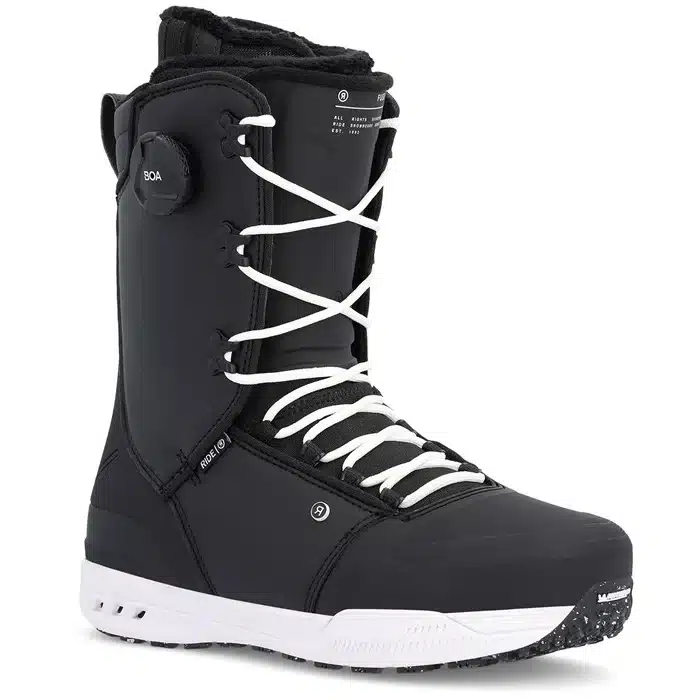 Ride Fuse Boots
Lacing system: Traditional lacing
Flex: 8/10
Buy on evo.com
If you click, we may make a commission on any purchase at no additional cost to you.
The Ride Fuse is the stiffest freestyle focussed boot in the Ride line and one of the most popular boots among their team riders. Many freestyle riders prefer the no-nonsense approach of traditional lace boots as they can be more finely adjusted. Ride have combined the laces on the outer, which their unique Tongue Tied system that keeps your heel locked at the back of the boot.
Standard lace
Boa tongue-tied system locks in the heel
Heat-moldable, Intuition liner
Michelin rubber sole, flat and thin with lots of feel
Eurothene padding on the tongue and heel counter
Articulated cuff
Rubberized toe cap is durable and keeps your feet dry.
The first thing I noticed when I tried these boots is that they are super comfy. This may be because they suit the shape of my foot, but I could definitely feel the benefit of the added cushioning and the consistent flex.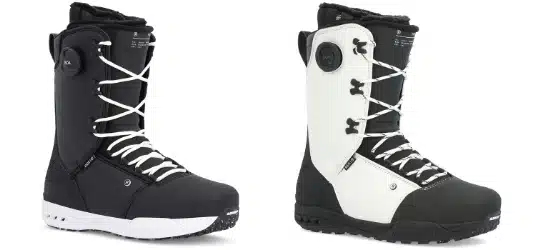 I like a stiff boot for freeriding, but for me, these were a little stiff for the park. I would go for the slightly softer and cheaper version, The Anchor. But if you are looking for a stiff, freestyle boot, this is a great choice.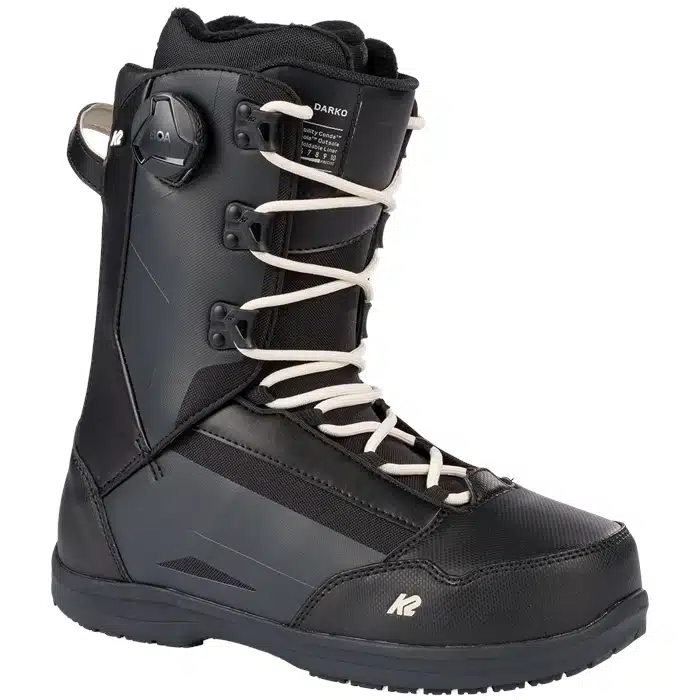 K2 Darko
Flex: 5/10
Lacing system: Traditional lacing
Buy on evo.com
If you click, we may make a commission on any purchase at no additional cost to you.
The K2 Darko is another traditional lace boot with a Boa system to secure the heel. But it works a little differently to the Ride Fuses's system; on the Darko, the Boa tightens a heel harness rather than the tongue as a whole. This focuses the tension more on your heel, leaving more flex at the top of the boot. Other features include:
trad lacing
Mobility conda holds down the heel
medial flex in the sole for tweaking
cushioning
Heat-moldable Intuition liner
more of a loose, skate shoe feel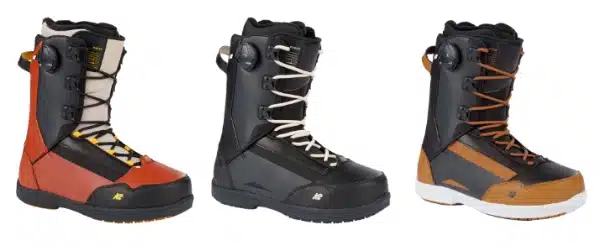 Testing out the boot, I could feel that it provides more of a skate feel underfoot than many other boots. The softer sole lets you slightly roll your foot in the boot, which is great for tweaking out grabs. I would say this is one of the more pure freestyle boots on the list. It gives an unparalleled feel and tweakablility inside the park, but maybe a little too much movement for freeriding or if you have bad ankles!
Best Women's Freestyle boots
Best Women's Freestyle Boot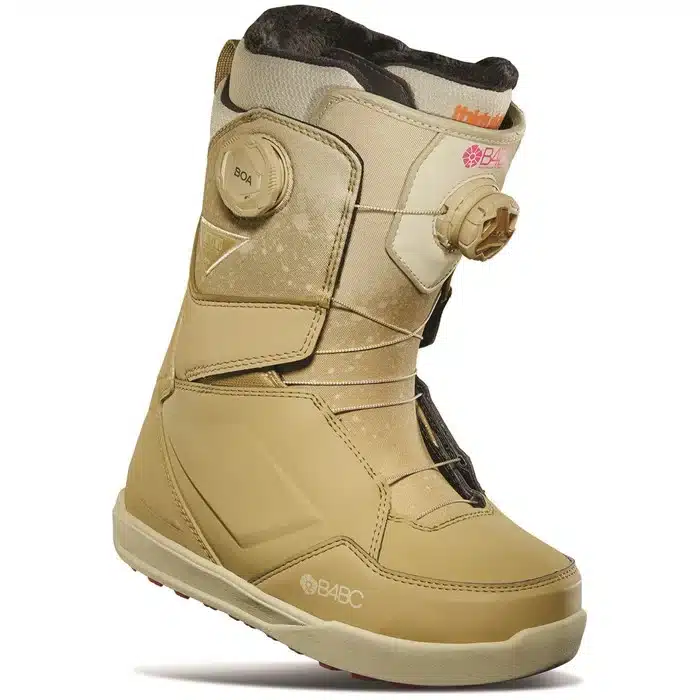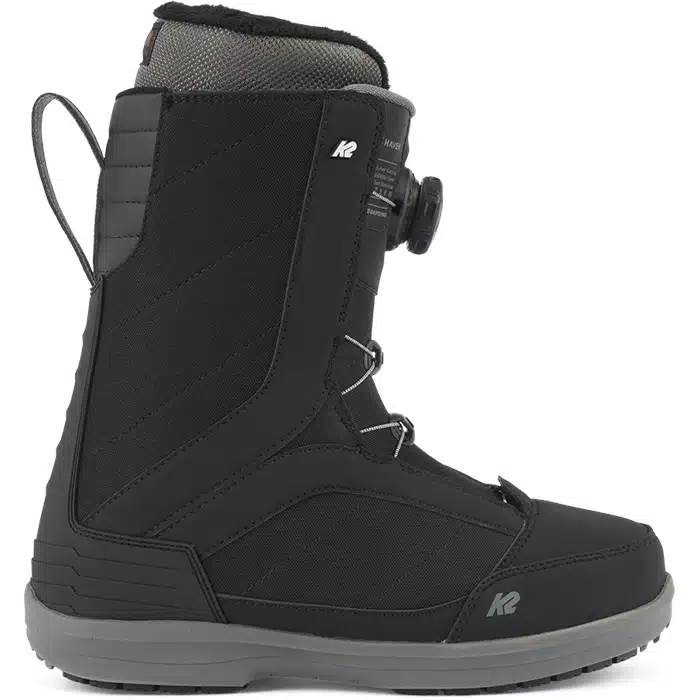 K2 Haven
Flex: 4/10
Lacing system: Boa
Buy on evo.com
If you click, we may make a commission on any purchase at no additional cost to you.