If you are a snowboarder looking for one board which you can use everyday on the mountain then you'll probably be needing an All Mountain Snowboard. If you ride everything the mountain can throw at you, from groomers to powder to park laps then an All Mountain Board is what you need.
What is an All-Mountain snowboard?
An All Mountain snowboard is the most versatile type of snowboard. It is a jack-of-all-trades snowboard which is suited to all kinds of terrain and riding which you can find on a mountain. This might be anything from groomed trails to jumps and rails in the park, to deep powder. As a result All Mountain snowboard kind of tend to be not ideally suited to any one style of riding but at the same time won't hold you back from dropping off the side of the trail on a powder, or sneaking in the odd park lap.
If you only have one snowboard then you probably want to make it an All-Mountain snowboard .
What makes a good All-Mountain snowboard?
Because you want an All Mountain snowboard to be good at everything, it can't be too suited to any one kind of riding, meaning it can't have too many of any of the characteristics which make a board good for powder, park, or carving. These characteristics are shape, length, camber, and stiffness:
Shape
As you'll be spending the majority of your time riding in your natural stance – not switch – an All Mountain snowboard should have a slightly directional shape, this means that the board is shaped to ride slightly better forwards than backwards. A directional shape means the binding mounts and the waist of the board are setback towards the tail. This gives you a bit more nose at the front of the board for smooth turn initiations and extra float through the powder or over bumps.
If you want an all-mountain board, but you are more into your freestyle then you could go for an All Mountain Freestyle board which has a directional twin shape. Directional twins are a symmetrical twin shape but have the binding mounts slightly set back. They basically ride like a true twin freestyle board but have a little extra length in the nose for cutting through variable snow and powder.
Camber
There are so many different camber profiles available these days and there are more than one type that will suit an All Mountain snowboard , but as a general rule the board should have some section of normal camper along its length. A normal camber board has a concave shape so that the center of the board rises about 1cm off the ground when unweighted. This concave shape gives the board a lot of its pop and control when put on an edge. Then there are hybrid cambers which combine sections of rocker and camber. The only hybrid cambers that I would recommend are ones where there is normal camber under the bindings. This is the important part of the board where the power goes through, so this is where you want that camber shape.
Flex
If you want a board that is going to be able to handle all kinds of snow and terrain then it needs to have a little stiffness to it. This kinds of aggressive All Mountain snowboards have enough stiffness and torsional stiffness to enable the board to hold an edge through all kinds of snow and at higher speeds.
Soft boards are great for low speed freestyle and butter tricks but if you want to be able to blast around the mountain then you need the extra stability which comes with stiffness. Most brands have 1-10 rating for their boards stiffness, I would recommend going for 6+ on this scale. Then it depends how aggressive you like to ride and how heavy you are; the more aggressive and heavier needing more stiffness.
My Pick of Best All-Mountain Boards 2021
Why I picked these boards
These boards meet all the requirements which go into making a great All Mountain snowboard . But each of them has slightly different characteristics to suit different riding styles so hopefully there's a board for everyone
---
Capita's flagship board which turns 20 this year, is basically designed for one thing – charging around the mountain. It has its customary stripped back black graphic but beneath that there's quite a lot of tech going into this board. The camber profile has a positive camber between the feet and early rocker in the nose, incorporated with a directional shape with a slight setback stance to help lift you above the snow.
Often times, rocker in the front of a board means you lose a bit of edge control. Capita have resolved this with their Death Grip™ edge sidecut(they like their morbid names! ), which introduces a tighter sidecut in the middle of the board to help whip around the turns.
The flex is a 6.5/10 which gives it plenty of pop and makes it rigid enough to cope with anything the mountain can throw at it. Diagonal carbon rods in the tip and the tail give it plenty of torsional rigidity to stop the edge skipping out during the turns
---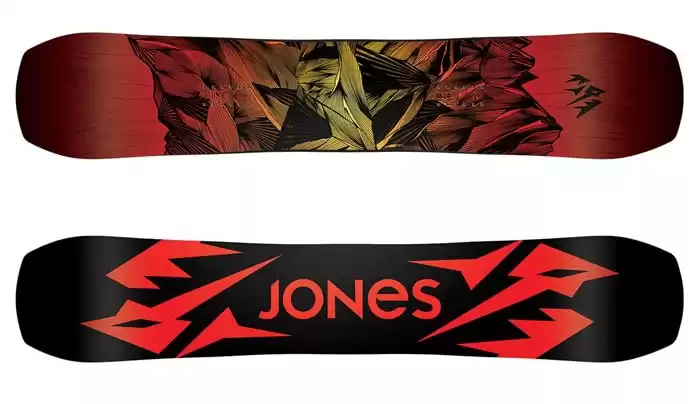 The Jones Mountain Twin is a directional twin board designed to turn the whole mountain into a terrain park. It has a medium flex so is nice and easy to ride with traditional camber between the bindings rising up into the tip and tail with early rocker sections to keep you floating above the snow. The base has a slight contour to it at the tip and tail creating a slight spoon section to reduce drag in the snow and minimize the risk of catching an edge. These features combine to make a really easy to ride board which allows Jones to crank up the stiffness and to give more stability at speed and more pop and responsiveness.
It uses Traction Tech 3 edges which incorporate three bumps on each edge between the bindings mounts to give extra bite into hard snow
---
The Suprateam is one of Nitro's oldest models and although it has changed a lot over time, its function as all mountain/freestyle machine remains the same. Like the Burton Custom it has a directional twin shape with a slight binding setback to offset the twin profile. Nitro have kept it simple with the camber profile with a full length traditional camber from contact point to contact point.
It has a progreeive sidecut whereby the side turn radius tightens towards the tail of the board and gives more control when riding fast in the turn.
The Suprateam is a board for advanced riders who like to haul ass! With an 8/10 flex it's pretty stiff, but it's also easy to ride at lower speed thanks to the board's Reflex Core Profile. This makes the board thinner in the center to give more torsional flex for easy low-speed turn initiation
For bigger riders, it has a progressive width, which means each size in the range gets slightly wider. This is a simple but effective idea from Nitro, which makes choosing a size easier as generally speaking bigger guys have bigger feet, meaning you don't need to worry about choosing a wide version of a board or not
---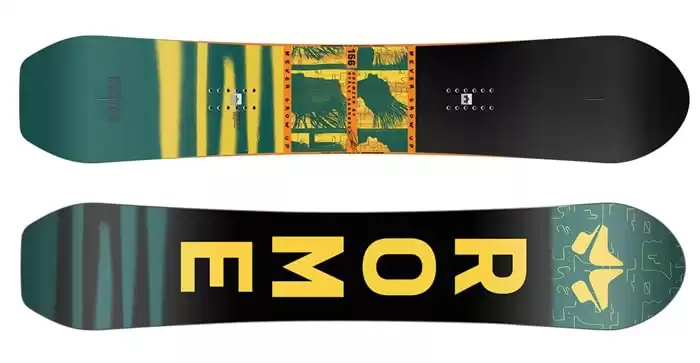 Although the Stale Cruwzer looks to have a real oldschool directional shape it's actually a directional twin, meaning it has a twin shape from contact point to contact point, but with a slightly set back stance. What gives it its directional look is the shape of the tip and the tail, but these will only really affect the ride when you are in deep powder. This means on the groomers it will ride like a directional twin meaning you can lap the park and everyone will know whether you are coming in switch or not.
It has pretty much a traditional, negative camber profile, but Rome have introduced small flat sections just before the board transitions into rocker at the tip and tail. These flat sections help give the board a predictable catch-free turn initiation and the camber gives all the pop and power that you'd expect from a traditional camber board.
It has a flex of 6/10 making it a little softer that a lot of the boards on this list, which is reflected in its playful freestyle feel. It has Rome's Carbon HotRod which extend out from the binding insert towards the tip and tail and give the board plenty of pop.
---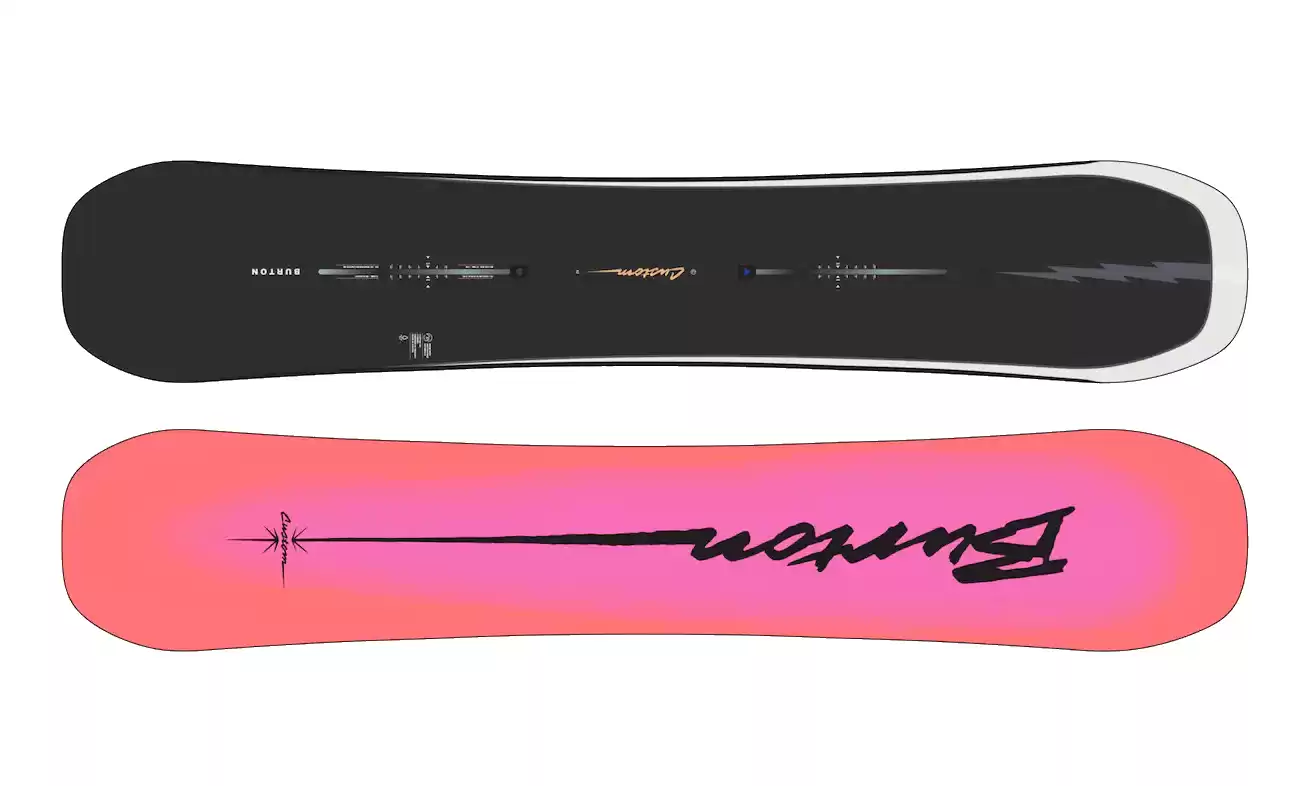 The Burton Custom is probably the most iconic snowboard out there. Although it has undergone a lot of developments in its 25+ years, its basic form remains largely unchanged. The quality of the materials and the build of this board make it a super durable, fast and reliable snowboard which you'll be able to ride everyday of the season. It is an all mountain freestyle board aimed and intermediate to advanced riders who want one board that does it all.
It has a twin profile and a twin flex, with only a slight setback on the stance giving it a directional feel. This makes it a perfect choice for anyone looking for an AM snowboard but likes to spend a lot of their time in the park.
It has a medium flex which makes it great for lower speed freestyle moves and also makes it accessible for intermediate riders.
Another highlight are the Frostbite edges which slightly protrude out from under the bindings to give extra grip right under your boot where you can apply the most pressure.
---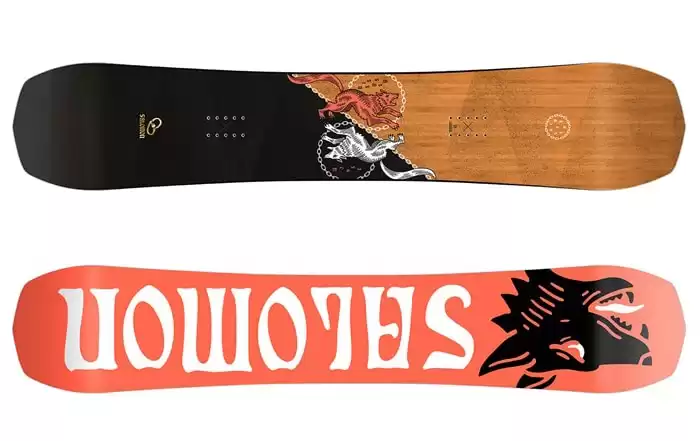 The Salomon Assassin is a do-everything board which you'll be able to ride everyday of the winter. It's a medium flex, directional twin but has plenty of tech features to set it apart from the crowd. It is a hybrid camber board with a flat section between the bindings for stability and camber sections under the feet for pop and responsiveness, then rocker in the tip and tail to help lift the board out of the snow.
The board has a quadratic side cut which combines 4 different sidecuts which kick in throughout the different parts of the turn. This guarantees edge control in all kinds of turn from high speed carving to tight turns in the trees.
---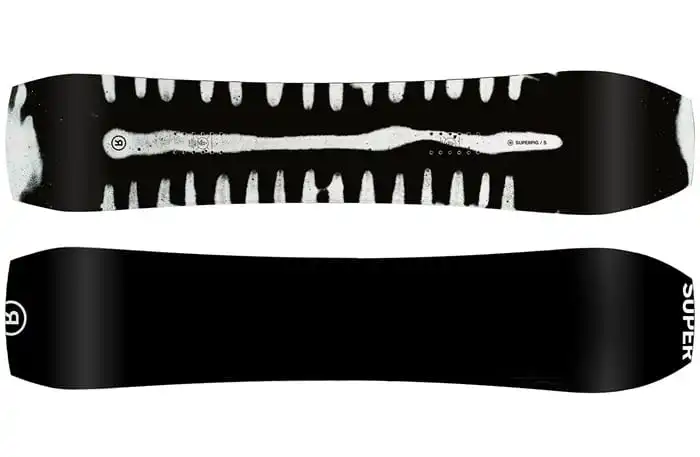 Rocker Type: Rocker/Camber/Rocke
Shape: Directional / Volume Shift
Buy on evo.com
Buy on Amazon
If you click, we may make a commission on any purchase at no additional cost to you.
The Ride Superpig is the only volume shift board on this list. Volume shift boards essentially swap length for width to give a board which is shorter, so easy to maneuver but wider so still has the same float in powder. This type of board is normally designed as a pure powder board but Ride have combined Volume shift with more traditional camber to produce an all mountain board which rips on and off the pistes.
The board has a long, drawn out rocker in the nose, which blends into a camber section under the bindings. This camber section helps give pop and responsiveness when the board is put on an edge on the groomers. The mellow rocker in the tail to help give a smooth turn transition and helps you stay on your feet when buttering in the powder.
The board has a Bi-Radial Sidecut which gives a high performance turn radius between the feet to help with carve turns on the groomer.
It has a medium flex, making it one of the softer boards in this list but the extra width under the feet gives it extra bite, so that your edges won't skip out during turns
All Mountain Snowboard FAQs