Snowboard Size Calculator & Chart
Share:
Picking the right snowboard for you can seriously affect how much fun you have on your board. Whether you're just starting out, or a bonafide park rat or powder hound, the size and shape of board can have a massive effect on what you are able to do on it. This guide will help you measure up the perfect snowboard for you!
What size snowboard should I get?
Our snowboard size calculator for men's and women's boards narrows down the search and makes picking a board easy.
All you need are the following details:
Your height
Your weight
Your level of riding
Your kind of riding
Your gender
Longer snowboards are generally more stable at speed and give more float in the powder. Shorter snowboards are easier to maneuver and are better for beginners, they can also be better for freestyle as they are easier to spin and press.
Sizing up a snowboard depends primarily on your height and weight. As a general rule your snowboard should come up to your chin, then if you are a bit heavier for you size you can add a cm or two.
Men's/Women's Snowboard size chart
| Height (in) | Height (cm) | Weight (lbs) | Weight (kg) | Snowboard length |
| --- | --- | --- | --- | --- |
| 4'10" | 147 | 110 -120 | 50-54 | 128-136 |
| 5′ | 152 | 115-130 | 52-59 | 133-141 |
| 5'2" | 158 | 125-135 | 57-61 | 139-147 |
| 5'4" | 163 | 135-145 | 61-66 | 144-152 |
| 5'6" | 168 | 140-155 | 63-70 | 149-157 |
| 5'8" | 173 | 150-165 | 68-75 | 154-162 |
| 5'10" | 178 | 160-175 | 73-79 | 159-167 |
| 6' | 183 | 170-185 | 77-84 | 160+ |
| 6'2" | 188 | 180-195 | 82-88 | 160+ |
| 6'4" | 192 | 190-205 | 86-93 | 160+ |
So using just you height and weight as a starting point, what other factors can influence the snowboard length right for you?
Generally shorter boards are easier to turn and maneuver and more suited to low speeds.
Longer boards are better at high speed and generate more float in deep powder.
If you are just starting out then you probably don't need to worry yet about what kind of riding you are going to be wanting to do. But if you have aspirations of becoming a freestyle park rat or a backcountry powder hound then you should your style of riding into consideration when buying a board.
What are the 4 Types of Snowboard?
Snowboards can be loosely categorized into 4 different types of board.
Beginner Snowboards
When you are learning you want something relatively short with a softer flex. This type of beginner board are easy to turn at low speed, and won't get need the extra stability offered by a stiffer, longer board.  Beginner boards are also fine for park riding, until you start hitting the bigger jumps. They also tend to be cheaper to buy.
Freestyle Snowboards
Similar to beginner boards, freestyle boards tend to be shorter and softer. This makes them easier to throw around in the park and for pressing on rails and boxes. A good freestyle board will have plenty of pop and a twin tip shape so that riding switch feels the same as your normal stance.
All Mountain Snowboards
All mountain boards are a good choice for riders who want do do everything on one board. All mountain boards have a directional shape and/or flex meaning they ride better in your normal stance than switch. This means they can can charge through all snow types from hard-pack to powder and you can take them over the jumps in the park.
Freeride snowboards
If powder is your thing then you need to have a freeride board in your quiver. With a longer nose and normally with a tapered shape, freeride boards give extra float in the powder and stop you from catching the nose.
In recent times snowboard companies have started developing more and more shapes and sizes of board. With so many to chose from, there is the perfect board for every type of rider and ability. The tricky part is finding the right one for you. Even if you have a board that you are happy with, take every oportunity to demo new boards or swap with you buddie for a few runs. You might find something thats suits you're riding better.
How can snowboards differ?
Other than the size of a board how can one snowboard be different from another? And what's the difference between a freestyle snowboard and a freeride snowboard? Although snowboard companies are continuously coming up with new tech which attempt to reinvent the snowboard, the differences between all boards, both men's and women's, can roughly fall into two categories:
Snowboard Shapes
When we talk about snowboard shapes we are talking about the silhouette of the board. Generally speaking snowboards can be either twin-tips or directional. Twin-tip board ride and feel the same no matter which directional they are ridden in, so they feel the same riding switch as riding in your normal stance.
Directional boards ride better in one direction, making them better for free riding and riding in powder. There are a few  variances which can make a board direction, including sidecut, nose/tail length, taper and flex
Read more about snowboard shapes
Snowboard Cambers
The snowboard camber basically means the profile of the board.  Although there are only 2 types of camber – traditional camber and rocker, boards can have different cambers in different places along the length of the board and can have a mix of different camber types.
Read more about snowboard cambers
Find your ideal Snowboard
Snowboard Size Calculator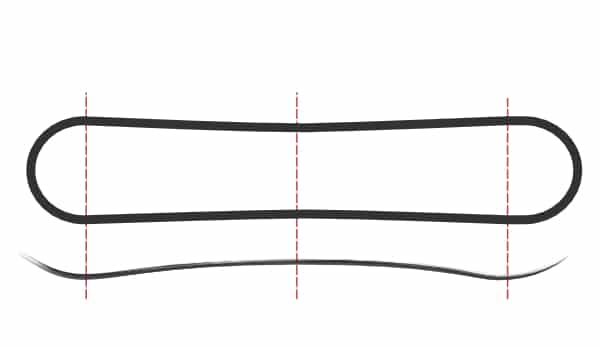 Name:
Snowboard size calculator
Work on:
Windows, macOS, iOS, Android
Software Category
Costs:
page: