The Salomon Huck Knife is one of the best-selling, freestyle-specific boards on the market. Having previously owned the 2021 version of this board, I was keen to take the newest model out for a few laps. Here are my thoughts on the Salomon Huck Knife 2024.
What I liked
Loads of pop!
Playful flex pattern
Easy to press
Riding switch
Stable on kickers
What I didn't like
Boring graphics?
Not great at carving
Maybe too soft for heavier riders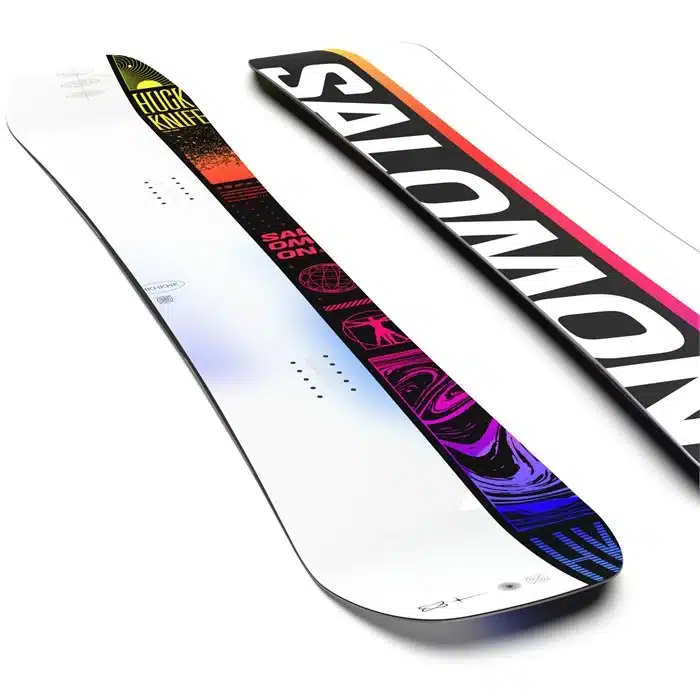 Salomon Huck Knife 2024
Salomon's best-selling park-specific, twin-tip freestyle board
Buy on evo.com
If you click, we may make a commission on any purchase at no additional cost to you.
How I tested this board
My height: 5'9
My weight:165lbs
Conditions: Spring conditions. Started icy, then turned to slush.
I rode this board in Villars, Switzerland. The snow was a little patchy, starting off icy but quickly turning to slush. There was a nice little park with a selection of medium-sized jumps and boxes.
I spent most of the time lapping the park, then riding, playing around on the run back to the lift , looking for side hits and trying some flatland tricks. Inside the park, I rode the medium size jumps and rails, with a few 360s once things started to soften up a little.
Technical stuff
Here is an overview of the technical details of the board; for a more detailed view of the specs for each size of board, click here
| | |
| --- | --- |
| Shape | True Twin |
| Camber profile | Quad Camber |
| Taper | 0mm |
| Stance setback | 0mm |
| Flex | 5/10 twin flex |
| Width | Standard, wide version available in 156 and 159 |
| Sizes | 149, 153, 156, 159, 162 156W, 169W |
Shape
As you would expect for a freestyle board, the Huck Knife has a true-twin shape. This means it rides switch exactly the same as it rides forwards.
Salomon have also given the Huck Knife a blunted tip and tail. By doing this, they have reduced the length of the board beyond the contact points and reduced the swing weight, making it easier to rotate when spinning off jumps.
Camber
The Huck Knife has Salomon's Quad Camber profile. This is based around a traditional camber profile but uses 4 different camber zones to fine-tune it to freestyle riding.

Starting at the center of the board, there is an area of mellow, almost flat camber. This is to make the board easy to bend and flex and allows for quick, precise adjustments that you might need to do when landing a jump.
Moving under the bindings, there are two zones of strong camber. This gives power where you need it; popping ollies and boosting off jumps.
Finally, at the tip and tail contact points there is a small area of reverse camber or rocker. This is to make the board more forgiving, making turn initiation smoother and allowing you to get away with the odd sketchy landing without catching an edge.
Edge radius
The sidecut of the Huck Knife features Salomon's Equalizer Rad technology, which uses straight lines instead of circular arcs. This unique design enhances edge hold and grip, making the board efficient and easy to control. The mid-tight sidecut, combined with the regular waist width, provides a dynamic and responsive setup.
Flex
The overall flex rating for this board is a 5/10, and I would say it felt a little on the soft side for a park board. But Salomon have designed the core of this board to create a soft flexing board that still has plenty of pop.
The Popster Booster core has milled out sections of the core to create different flex zones along the length of the board. This kind of mirrors the camber profile, so you have a thinner section in the middle of the board where you want extra flex for easy maneuverability, then under the binding there are thicker sections to provide plenty of power and pop.
On top of the wood core, there are carbon stringers that fan out from the binding inserts to the tip and tail, giving even more snap and pop to your ollies.
Underneath all of this is a high-grade sintered base that not only slides really well, but is tough enough to withstand knocks and holds wax.
How it rode
Groomers
I started of the day with a couple of laps on the groomers to see how the board performed in different types of turns before getting into the park.
The first thing I noticed was the feel of the different camber zones. This gives the board a feel somewhere between a traditional camber board and a hybrid camber. The Huck Knife is a really easy board to ride, turning takes no effort but the board is also surprisingly nimble.
Trying an ollie, I really felt the extra stiffness of the tail kicks in. This combination of soft and stiffer zones gives you loads of pop with minimal effort.
For carving and higher-speed turns it does start to feel a little limited and there is not much rebound out of the turn. I put this down to the EQ Rad sidecut, which is not designed for high-performance turns, so let's head to the park which is this board's natural home.
Jumps
Before testing this board, I was aware that it is the board of choice for many of the Salomon team riders, and is often seen on the podium of slopestyle contests. So I was expecting it to perform well on jumps.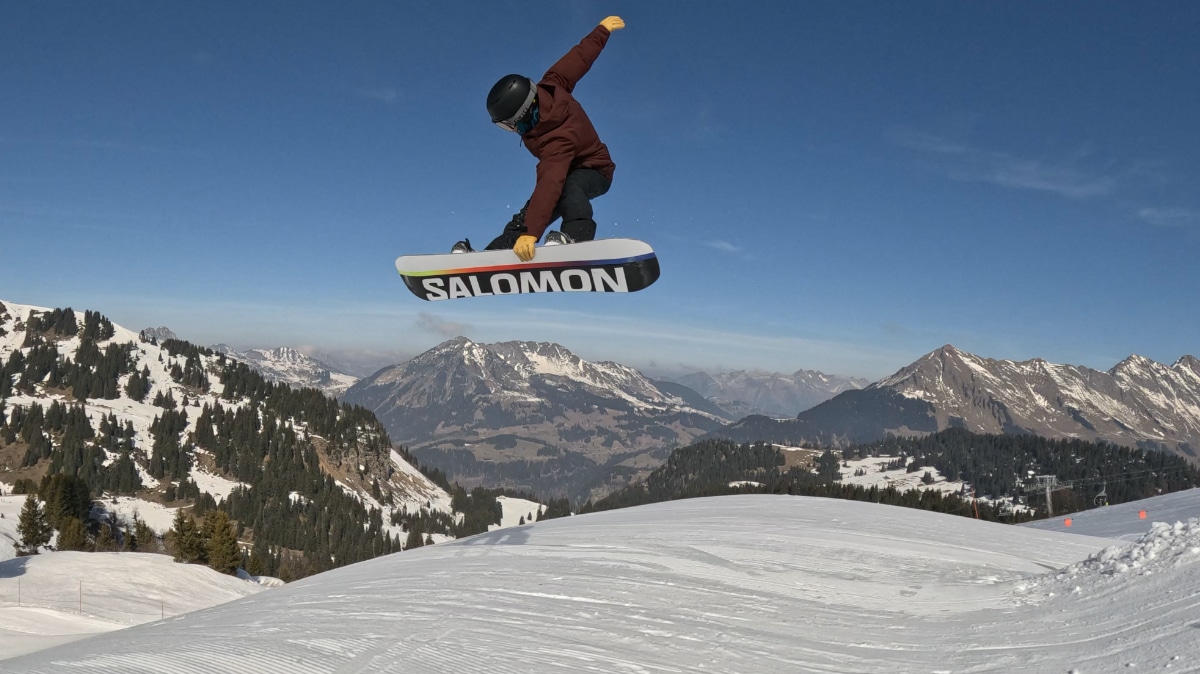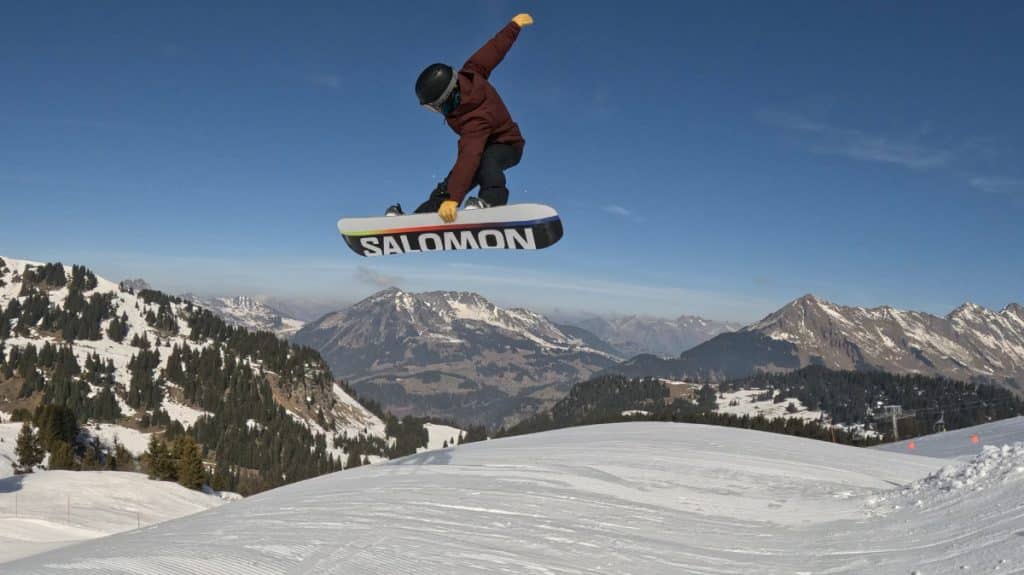 I normally ride a stiffer board in the park but after hitting a couple on the Huck Knife I was started to wonder if I shouldn't be on something softer. I was immediately super comfortable on jumps, this board has crazy amounts of pop!
Setting up for spins the EQ edge gives a nice amount of grip to spin against without hooking into a turn. Once in the air the board felt light under my feet and despite being a little rusty gave me the confidence to try a couple of tricks that I've not tried fro a while.
Rails and Boxes
This board is really good on rails and boxes as well. I could really feel the different sections of the Quad Camber profile working depending on the trick. For board slides, the middle of the board is almost flat and gives a predictable feel. Once you start sliding on the nose or tail, you have the stronger camber section to push against and get your balance. I felt this worked really well but you have to be on the sweet spot, which felt like it was right under my foot.
The Huck Knife may feel a little weird at first if you are used to a more traditional camber board that gives a more progressive feel for presses and nose slides. But after a couple of laps, the Huck Knife definitely worked great for me on rails and boxes.
Buttering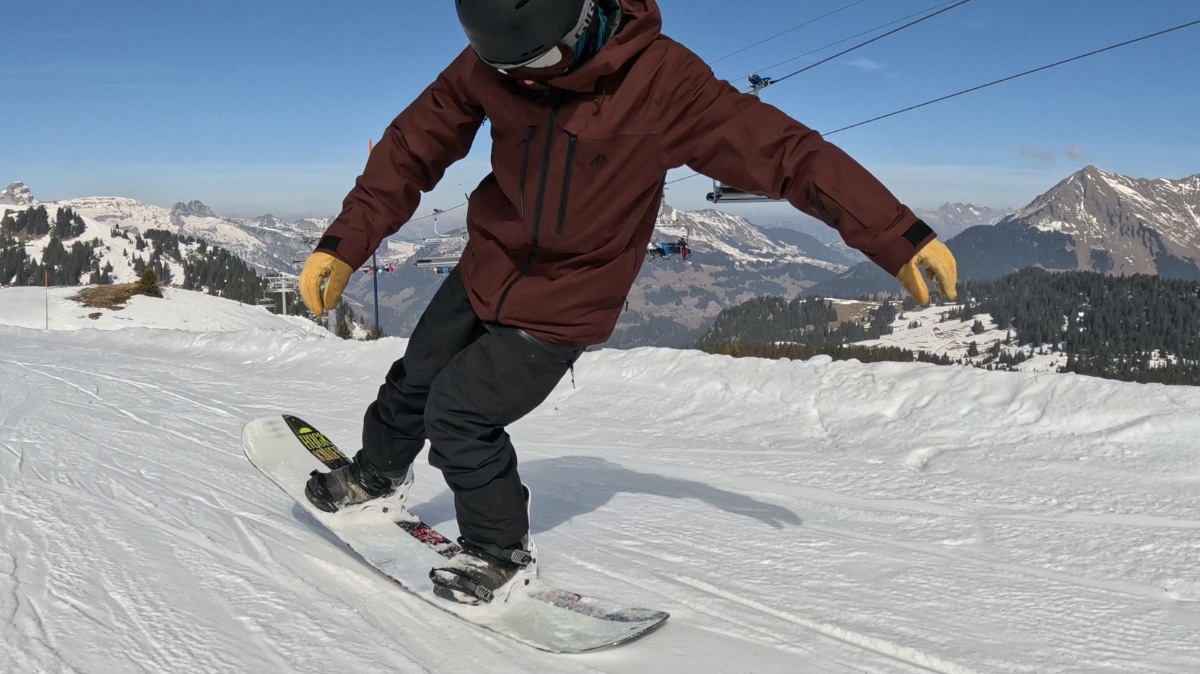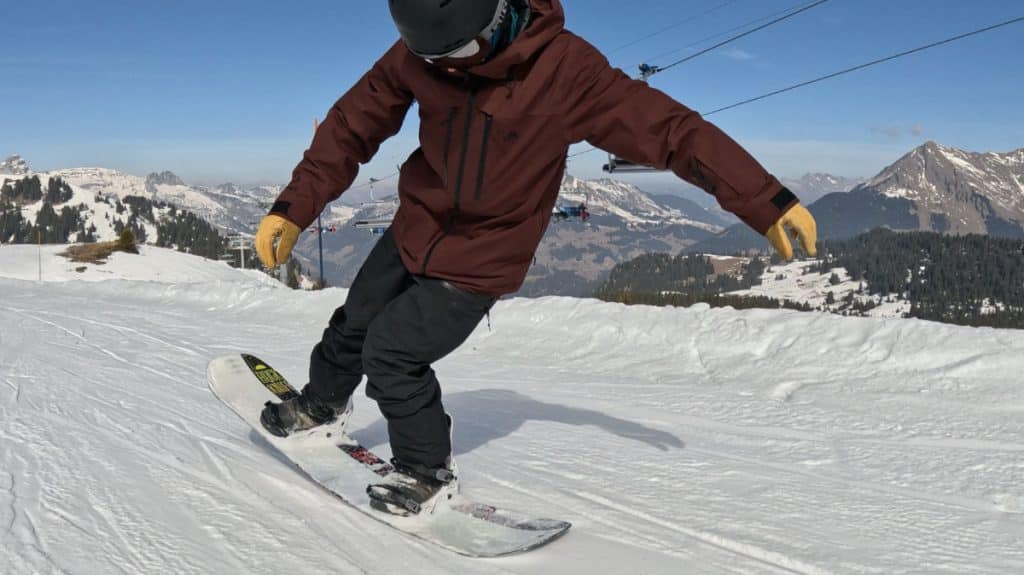 As well as having a soft flex along its length, the Huck Knife is also relatively soft torsionally. This is the thing I look for in a board for buttering. Having some torsional flex makes the board easy to manipulate and push through into butter tricks.
The contact points are also lifted with the early rocker section, helping to rotate the board without catching an edge.
Overall I found butter tricks were easy and fun, with plenty of pop out of tricks
Slush/ Chunder/ Powder
Although I only really got to ride this board in slush, it gave me a good insight into how it would perform in other kinds of snow.
The Huck Knife is designed as a park board, but there are some features that will help in soft snow conditions. Within the Quad Camber profile, there is the section of rocker towards the
Wrapping up
As a fan of traditional camber boards, I was excited to test out the Huck Knife and see if its reputation as one of the best park boards out there stood up to testing.
For the type of freestyle riding that it is designed for, I think this board really delivers! It has loads of pop and life while at the same time being forgiving and easy to ride.
It is less stiff than the park board I normally ride, but rather than finding this a problem, it made me question whether I should go for something a little softer! As long as there is lots of pop, the majority of riders really don't need a stiff board for the park.
Riders who are a little heavier or riders who really rip should consider the Huck Knife Pro, which is a beefed-up version.
Outside of the park, it may also be a little soft. If you like riding fast and are not a totally committed park rat. Then you should probably consider a stiffer board. I personally like the Burton Blossom, or if you like Salomon boards, then try the Salomon Assassin
Overall I was really impressed with the Huck Knife's park credentials. Also, for $500, you get a lot of bang for your back! I would definitely consider the Huck Knife for a dedicated park board.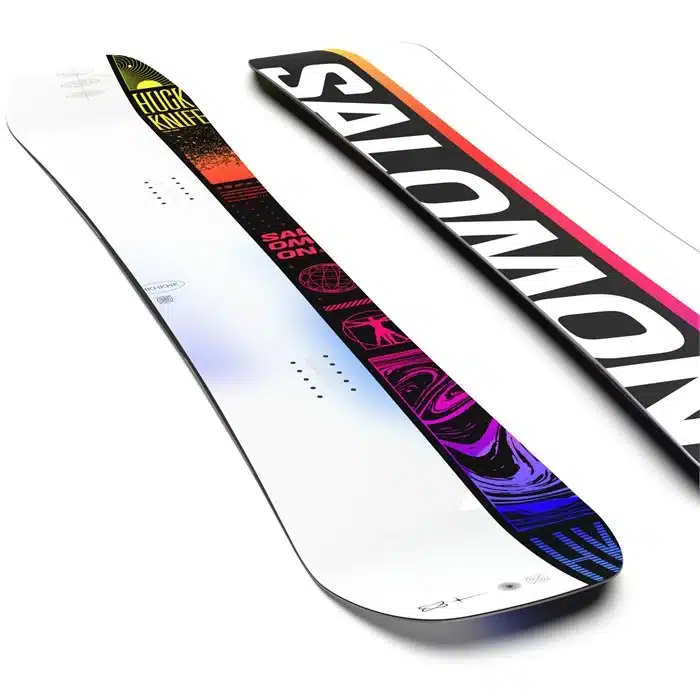 Salomon Huck Knife 2024
Salomon's best-selling park-specific, twin-tip freestyle board
Buy on evo.com
If you click, we may make a commission on any purchase at no additional cost to you.