Gloves or mittens are essential items that every snowboarder need. But there is a whole range of choice, from type of glove and materials. Here we outline what to look out for when choosing a pair of gloves and our pick of the best gloves in 2021/22
Mittens vs Gloves for Warm Hands
When it comes to choosing whether to go for Mittens or Gloves there are a few things you should think about. The main purpose of gloves/mitts is to keep your hands warm and dry, but you also need to be able to use your hands, so there is often a trade off between warmth and dexterity.
The main advantage of mitts is that they tend to be warmer as there is less surface area exposed to the cold and your fingers are held together enabling them to share warmth. Gloves on the other hand are a little bit colder, but the individual fingers means it's much easier to use your hands. This means for many simple tasks such as opening pockets or answering your phone you can keep your gloves on which will help keep your hands warm.
So when it comes to choosing whether you are going to go for mittens or gloves you have to ask yourself how likely you are to get cold hands. This can depend on a couple of factors:
How cold it is at your ski resort? How high is it? What time of year are you going? And how easily do your hands get cold?
Personally, I use mitts for the most of the winter. My hands get cold easily, and I would rather lose a bit of dexterity than have freezing cold hands. In the spring, when things warm up I have a pair of gloves which I use so my hands don't get too sweaty.
If you can't decide between gloves and mittens then there is another option. 3 finger gloves or Lobster Claw gloves free up your index finger meaning you can do most tasks you can in gloves except play the piano! These will help keep your other fingers nice and warm.
Under or Over Cuff?
Finally, when choosing a glove you have to decide whether you want the glove to go over or under the cuff of your jacket. Personally, I prefer gloves which go under the jacket. I find they are quicker and easier to get on and off and look a bit neater. The reason you may want gloves which go over your jacket is that they can do a better job of keeping the snow out. This can be particularly useful on a deep powder day, although if your jacket has wrist gaiters then they will do a better job of keeping snow out.
The other reason you might want over-the-cuff gloves is if you are wearing wrist guards. The extra wide opening will make it easier to slide the gloves over the top of the wrist guards
Which Materials Keep Your Hands Warmest?
Ski and snowboard gloves can be made out of a variety of materials, but these are a few to look out for, and things I have taken into account when compiling my list of recommendations of gloves and mitts
Snowboard gloves tend to take a bit more punishment than ski gloves so they need to be made out of tough, resistant materials if they are going to last. These are a few of the ways that snowboard gloves take a hammering:
Holding the edge of the board when carrying it.
Dragging your hand when turning.
Having your hands in the snow more often when learning.
Grabbing your board when jumping
Leather
Leather is hard wearing, waterproof and breathable. Either a full leather glove, or a leather palm will hold up to the abuse that snowboard gloves get and help keep your hands dry. Most leather gloves come with a little sache of wax, rubbing this into the leather will help keep the leather waterproof and supple.
Gore Tex
Gore-Tex is a waterproof, breathable fabric membrane, which can be added as one of the layers in gloves and outerwear. Gore-Tex will help keep your hand dry from the outside but also let the gloves breath so your hands don't get too sweaty and damp. Whilst Gore-Tex is a recognisable brand name, lots of glove brands have either developed their own equivalent or use other brands which do the same job.
Insulation
Unless you are looking for a lightweight spring glove then you'll need some form of insulation to keep your hands from freezing. Whilst down feathers are a great, natural insulator, it's not great when wet. For gloves there are a few synthetic insulators out there which will withstand getting wet. Thinsulate is often found in cheaper gloves, but is actually really effective. It does tend to pack down and lose some of its warming qualities over time, but will do a great job of keeping your hands warm for the occasional snowboard trip.
Primaloft is a synthetic imitation on down feathers and it is amazingly warm. It's more expensive than Thinsulate but will last longer and is warmer if you are going out in really cold conditions.
---
Warmest Snowboard Gloves and Mitts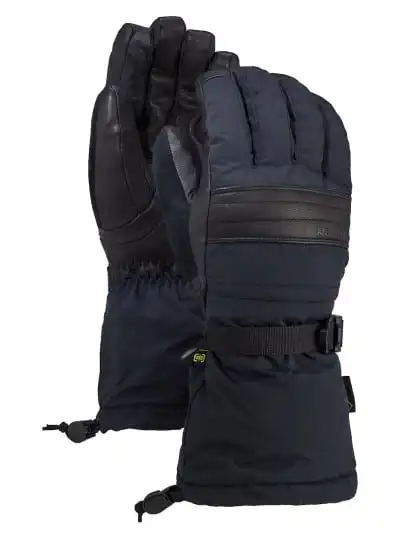 These super insulator gloves have Burton's DRYRIDE two-layer fabric shell that does a similar job to Gore-Tex producing a highly breathable, waterproof, and quick-drying glove. They have a full leather palm and a touch screen compatible thumb meaning you can use your phone without having to remove your gloves.
They have additional vent/pockets which can either be used to let in some air if your hands are getting a little warm or to add hand warmers if they're getting cold.
---
These full goatskin leather mitts are super warm and durable and I think, some of the best looking litts out there. They have Primaloft insulation wrapped up in a Gore-Tex membrane. The full leather outer will put up with any amount of punishment.
They come in a mens and and women's version, with each being slightly different shape for the suit men's/women's hand shapes.
---
Swedish brand, Hestra have been around for ever and they only do one thing – make gloves. So its no surprise that these are amazingly good at keeping your hands warm and protected from the elements. They are full leather with polyester foam insulation which lasts really well and performs well even when wet.
This model comes in a glove and full mitt version, but I picked the 3 finger ones for this list because they are really versatile and I they look cool!
They come in a variety of sizes and colors for for both men and women
---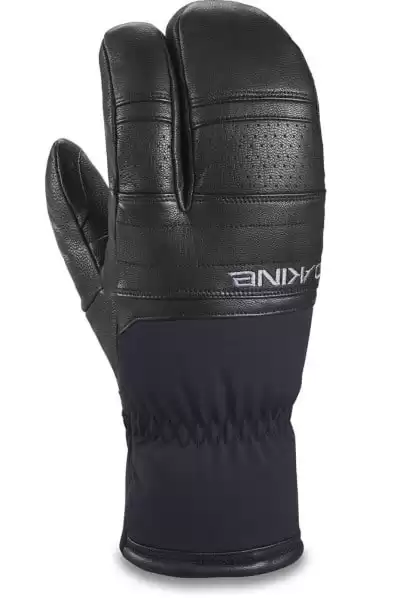 These 3 finger gloves from Dakine are seriously warm! They have PrimaLoft insulation around the front part of the hand which gets most exposed to the cold. They have a GoreTex lining top keep your hands dry and allow them to breath.
I found them also to be a great ergonomic shape which are comfortable to wear and give surprisingly good dexterity for a bulky glove with lots of padding. The free index finger really helps you do basic tasks without the need to remove your gloves, such as tighten your bindings and open pockets
---
These mitts are basically sleeping bags for your hands! They are the only mitts on the list that have down fill which makes them super warm. The only down side with down is that it doesn't really like getting wet, so they are a great mitt for when it's super cold and there's no moisture in the air, but maybe you'll need another kind of glove when things start warming up in the spring.
They come in a range of colors and sizes from XXS to XL to fit both men's and women's hands.
---
Other ways to keep your hands warm.
Sometimes, no matter how good your gloves are, you can still get cold hands. For those occasions there are a few options out there which can make sure you still can enjoy your time on the hill even on the coldest days.
Glove liners
I recon everyone who is going skiing or snowboarding should have a pair of glove liners in their pocket. They are relatively inexpensive and will instantly transform your not-so-warm gloves into a toasty experience. You can also keep them on when removing your outer glove to get to your phone or wallet so that your hands won't instantly start to freeze. Plus if they start to get a bit sweaty in the spring then you can just throw them in the wash.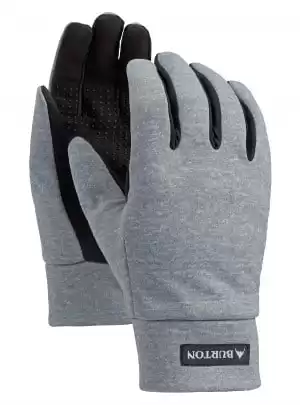 Hand warmers
When all else fails you can turn to chemistry to warm up your cold hands. Hand warmers are little saches who's magical ingredients begin to warm up when the packet is opened and they are exposed to air. They are a great backup plan for those really cold days when you just can't get warm. Also, if you have kids then it's a great idea to stick a pair in their pocket before they head out into the cold. They are pretty cheap and and will keep your hand warm for up to 8 hrs – so long enough for a full day on the hill.
Heated gloves
If all else fails, then the nuclear option is heated gloves. These have a heating element which runs around the fingers of each glove and are connected to a battery pack which sits in a pocket around the wrist.
They tend to be a bit big and cumbersome, but if you are someone who really suffers from cold hands then this is a guaranteed way of fixing the problem.
Wrap up
Hopefully the above list has given you enough options to find the perfect pads for keeping your knees safe. For the majority of cases a thin knee pad like the Burton Basic or the Dakine Anthem will give enough protection for you to shrug of little falls. However if you don't want to take any chances because you ride a lot of rails or learning on East coast ice, maybe go for some of the more robust MTB style pads. As with all protection try and wear them habitually so that you don't learn to fall on your knees then take a bounding on the days when you forget them!