As a seasoned snowboard instructor and a mentor to those aiming to carve their path in this exhilarating field, I've come to understand that choosing the right snowboard instructor course is as crucial, It's not just about learning to teach snowboarding; it's about finding a program that aligns with your aspirations, whether you dream of shredding the powdery slopes of the Canadian Rockies or teaching flips on the halfpipes of Japan.
In this comprehensive guide, I've laid out everything you need to consider when selecting a snowboard instructor course. From the various national qualifications that can open doors around the globe to the nuances of where you can actually use them, I've got you covered. Because let's face it, the world of snowboarding is vast and varied, and the right certification can be your golden ticket to the peaks you're yearning to explore.
The table below compares all the major instructor training providers around the world. The prices are for the level 1 and 2 certification course, which it widely acknowledged as the minimum you need to get a job as an instructor. However, each provider may offer more options and flexibility so read on for more details
| Company | Countries | Certification | Course Cost | With Accommodation | job offer |
| --- | --- | --- | --- | --- | --- |
| Snowminds | Austria, Canada; Japan, Spain | Austrian, Australian, Canadian, NZ | $10,966 | ✔ | ✔ |
| EA Ski & Snowboard Training | USA, Canada, Japan, NZ, Switzerland | British, Canadian, NZ | $6,475 | ✔ | ✔ |
| SnowSkool | Canada, France, NZ | British, Canadian, NZ | $8,950 | ✔ | ✘ |
| SIA Austria | Argentina, France, Austria, Canada, Japan | Austrian | $9,603 | ✔ | ✔ |
| Rookie Academy | NZ, Japan | Canadian, NZ | $10,120 | ✔ | ✘ |
| Alltracks Academy | Canada | Canadian | $10,681 | ✔ | ✘ |
| NonStop | France, Canada, NZ | Canadian, British | $11,930 | ✔ | ✔ |
| Snowboard Coach | Andorra | British | $9,852 | ✔ | ✘ |
| Snow Trainers | USA, NZ, Japan | American, NZ | $15,900 | ✔ | ✘ |
| SItco | NZ | NZ | $10,955 | ✔ | ✘ |
| We are Sno | Canada, Japan, NZ | NZ, Canadian | $11,708 | ✔ | ✘ |
| Base Camp | NZ, Canada, France, Austria | NZ, Canadian, British, Austrian | 10 wks from $11,705 | ✔ | ✔ |
Which Snowboard Qualification is best for you?
When you are decided where you want to train to become an instructor then it's also worth keeping in mind where you want to work as an instructor.
The first thing you should look into is where you can get a work visa. For most places you will be able to get a short term visa for a winter season if you are under the age of 30. But its worth doing a bit of research first for you specific circumstance so you don't end up disappointed!
| Qualification | Where you can work |
| --- | --- |
| CASI/CSIA (Canadian) level 1 | Canada & USA |
| CASI/CSIA (Canadian) level 2 | Worldwide |
| BASI (British) level 1 | UK |
| BASI (British) level 2 | Worldwide |
| NZSIA (New Zealand) level 1 | NZ & Australia |
| NZSIA (New Zealand) level 2 | Worldwide |
| AASI (USA) level 1 | USA & Canada |
| AASI (USA) level 2 | Worldwide |
| WSSV (Austrian) level 1 | Austria |
| WSSV (Austrian) level 2 | Worldwide |
As for the qualifications, as a general rule all level 1's are only recognised in the country that they are issued, so for example is you have a CSIA level 1 then you will only be able to work in Canada.
Once you pass the level 2, you're qualification should be recognised worldwide no matter which system you qualified under. However, in practice it doesn't always work like that. You still will have a better chance getting a job if you have the local qualification as this is more widely understood by the ski/snowboard school that would be employing you. There are some exceptions to this rule, where there are foreign owned schools that prefer their native qualification. For example there are lots of British owned snowboard schools in Europe that like BASI and lots of New Zealand schools in Japan that favor NZSIA.
Where can you take a Snowboard Instructor Course?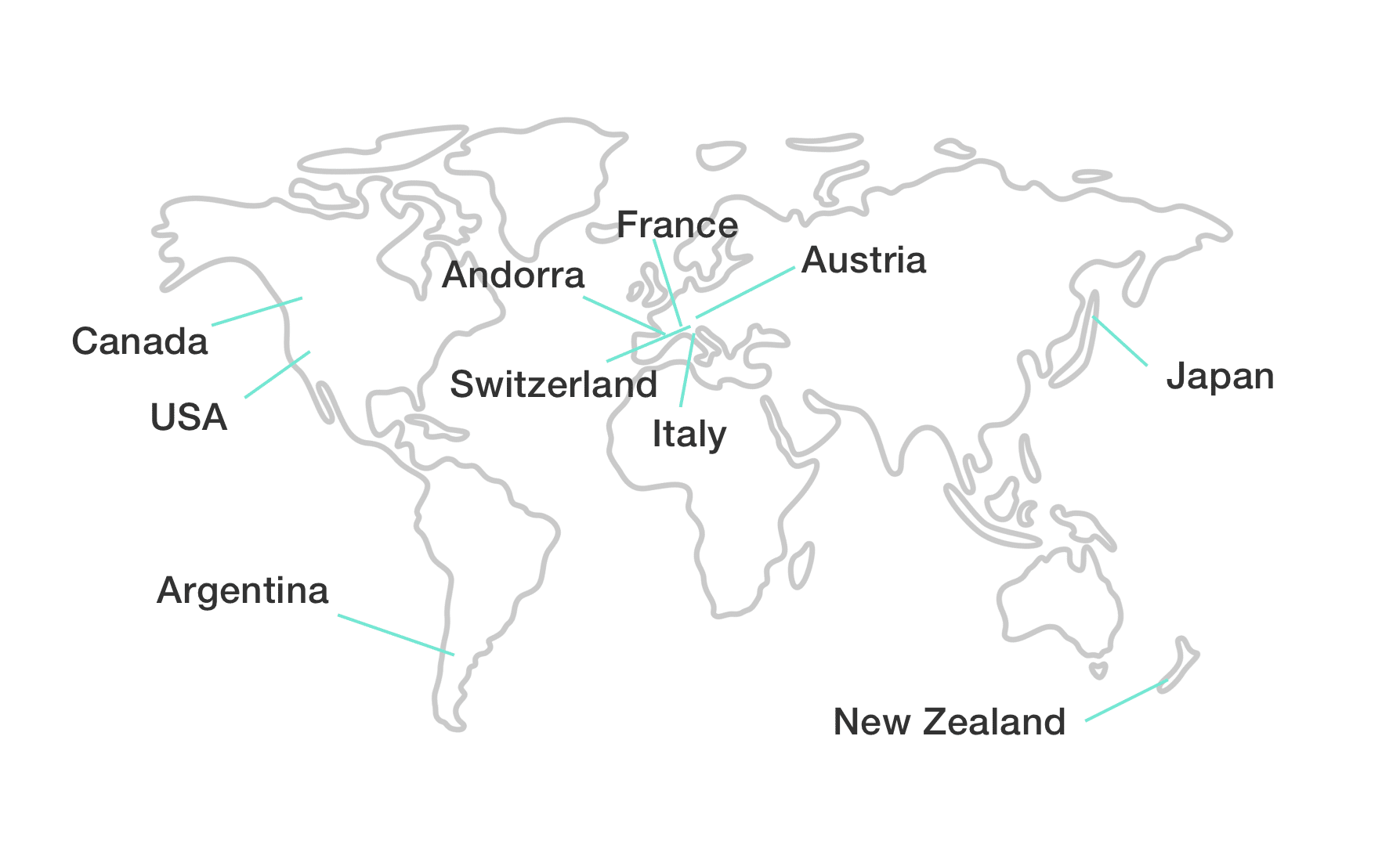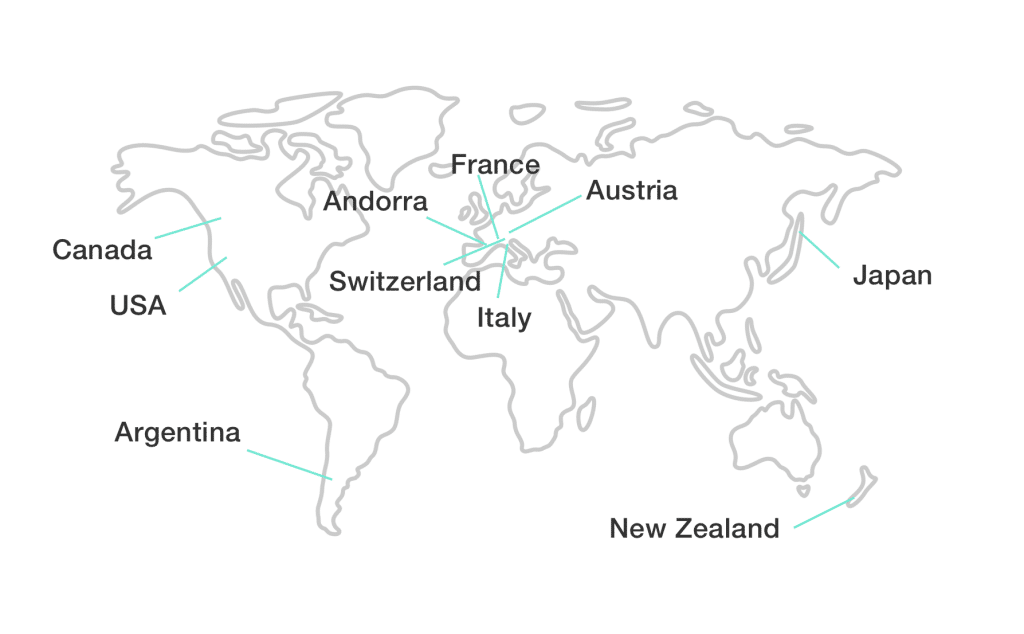 As you can see from this map, you can train to become an instructor all over the world! An instructor training program can also be an amazing cultural experience! Something that is worth considering when choosing a course.
Here's a breakdown of course providers by location:
Snowboard Instructor Courses in Europe
Working as a snowboard instructor in Europe can be a little complicated depending on your nationality and your qualification. If you have an EU passport and a European level 2 qualification then you will have plenty of opportunities to work in Austria, Switzerland or Andorra. If you speak the local language that is an added bonus but often not necessary resorts that have a lot of foreign, English speaking visitors.
If you are from outside the EU, then you will need to look into your counties access to EU working visas. If you are from the UK then you are basically screwed (Thanks Brexit!) Working in France is almost an impossibility due to their qualification system. They only have one level which is super high (equivent to level 4 under other counties systems.) Oh, and you've got to be a ski instructor \_(ツ)_/
Snowboard Instructor Courses in Canada
Canada's snowboarding is world-famous, particularly in British Columbia and Alberta. Resorts like Whistler and Banff offer vast terrain, deep powder, and stunning mountain scenery. The culture is friendly and welcoming, with a range of prices from budget to luxury.
Snowboard Instructor Courses in USA
USA The USA Rockies, including Colorado and Utah, are known for their light, dry powder, extensive terrain, and world-class resorts like Aspen and Park City. The region combines high-quality snowboarding with American hospitality and amenities, though prices can be on the higher side.
Snowboard Instructor courses in Argentina
Argentina Argentina offers unique snowboarding experiences in the Southern Hemisphere winter. Resorts like Bariloche provide good snow conditions and beautiful landscapes. It's a more affordable destination, with a blend of Latin culture and Patagonian beauty.
Snowboard Instructor Courses in New Zealand
New Zealand New Zealand's South Island features resorts like Queenstown and Wanaka, known for their scenic beauty and varied terrain. The snowboarding season runs during the Northern Hemisphere's summer, offering a different experience with a laid-back, adventurous culture and reasonable prices.
Snowboard Instructor Courses in Japan
Japan is famous for its light, fluffy powder, particularly in Hokkaido. Resorts like Niseko are renowned for their snow quality and unique tree runs. The experience is enriched by Japanese culture and cuisine, with a range of affordable to mid-range pricing.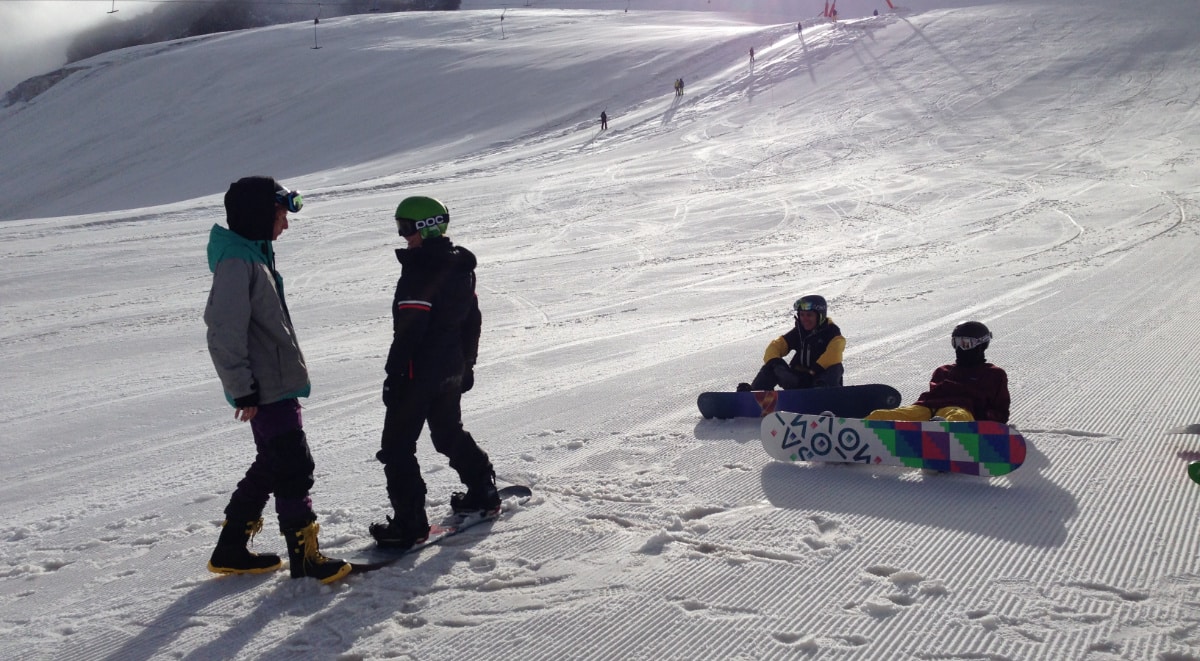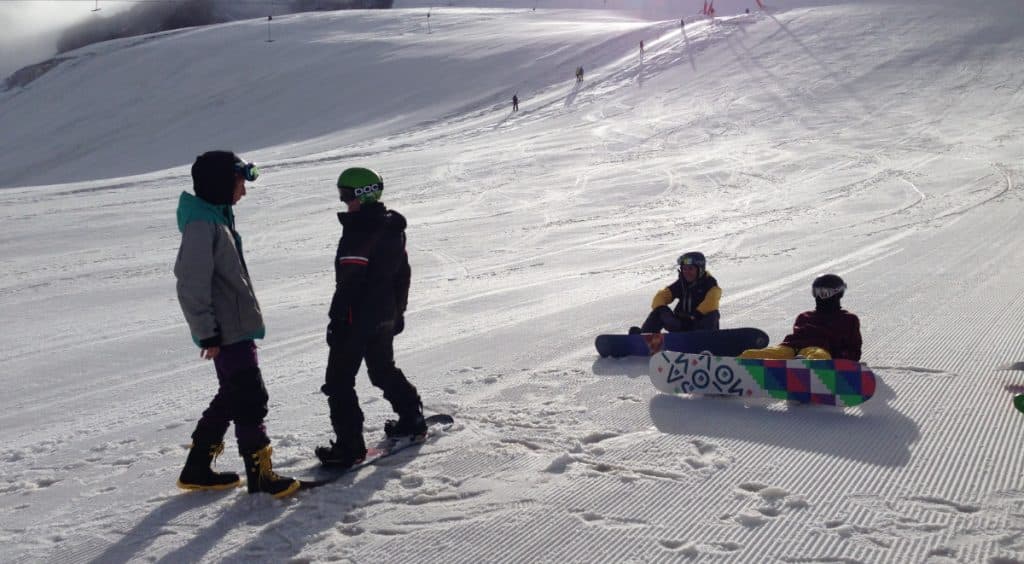 Snowboard Instructor Course Providers
This is a comprehension list of all the companies that provide snowboard instructor training courses. Although they all have the same aim of getting you qualified as an instructor, there are lots of differences between the destinations and the packages. Have a read through my summary and visit the individual websites for more information.
Snowminds
Snowminds, established in 2012, is an organization that provides training programs for individuals interested in becoming ski and snowboard instructors. The company's objective is to equip participants with the necessary skills for instructing in these sports and to facilitate employment opportunities at ski schools upon course completion.
The training offered by Snowminds covers both practical and theoretical aspects of skiing and snowboarding, including on-slope instruction and educational development. A distinctive feature of their program is the inclusion of a job placement guarantee post-certification.
The company operates in a variety of international locations, offering training in countries known for their ski facilities, such as Austria, Canada, Japan, Spain, and Switzerland. These venues are selected for their diverse conditions and environments, which contribute to the comprehensive training experience.
Snowminds also provides a "destination test" to assist candidates in selecting a training location that aligns with their preferences. In addition, they offer a competitive opportunity to win a travel grant that can be applied toward the cost of their training programs.
The training is structured to prepare instructors for the demands of working in diverse cultural settings, often requiring communication in multiple languages and the management of various instructional scenarios.
The team at Snowminds consists of experienced professionals, including many who have served as instructors themselves. This collective experience is leveraged to support trainees throughout their instruction journey. The company culture is described as inclusive and supportive, aiming to foster a sense of community among instructors and staff.
EA Ski & Snowboard
EA Ski & Snowboard is recognized as the world's largest provider of ski instructor training, with a history dating back to 2006. Founded by ski instructors Eryn and Jonny, the organization was established to simplify the path to becoming a snow sports instructor. They pioneered the Instructor Internship concept, which has since revolutionized the industry. The company operates in over 30 resorts across five countries, including Canada, the USA, Japan, New Zealand, and Switzerland, and has trained over 3000 ski and snowboard instructors.
EA Ski & Snowboard offers a comprehensive range of courses for both skiing and snowboarding, ensuring that enthusiasts of both snow sports can pursue their passion. The team comprises a small group of dedicated professionals from around the world, all united by their love for snow and a mission to empower the next generation of instructors.
Their training programs are not only about imparting skills but also about providing a guaranteed job offer to teach in the same season, making them a unique and attractive option for those looking to break into the industry. With a global network of top resorts and partnerships, EA Ski & Snowboard opens doors for interns and trainees, offering the best winter experience and making it easy for people to become qualified instructors.
The organization is also committed to environmental sustainability, planting a tree for every traveler who joins their courses, in collaboration with Eden Reforestation Projects. This commitment to both educational excellence and environmental responsibility makes EA Ski & Snowboard a leader in the snow sports instruction industry.
SnowSkool
SnowSkool is an established provider of ski and snowboard instructor training courses, with a history dating back to 2004. The company has grown from its early days to offer instructor and internship programs in Austria, Canada, France, New Zealand, and Switzerland.
The training offered by SnowSkool is comprehensive, preparing trainees for a career as a ski instructor, a gap year experience, or simply to enhance their skills for personal satisfaction. SnowSkool's snowboard instructor courses are designed to improve carving turns, powder training, and freestyle skills in some of the world's best parks.
In addition to training courses, SnowSkool also offers snowboard instructor internships, which allow participants to train, take exams, and work as a snowboard instructor all in the same season. These internships are intensive and require a full season commitment, with opportunities to learn languages like French or German.
The company was established in 2003 and operates under The Ski Company (UK) Ltd, with contact offices in various locations including Banff, Big White, Meribel, and Wanaka. SnowSkool's approach to ski and snowboard instructor training is both rigorous and rewarding, setting a high standard for professionalism in the industry.
SIA Austria
​​SIA Austria positions itself as a leading ski/snowboard instructor academy, offering training programs led by a team of highly qualified and experienced trainers from Europe. The academy emphasizes the personal development of its trainees, with trainers taking on roles beyond instruction, including mentorship and ongoing support post-certification.
The academy's focus is on equipping trainees with skills that are recognized and respected internationally, facilitating their success as snowboard instructors. SIA Austria also provides a job guarantee upon course completion, enabling trainees to immediately put their new skills into practice.
The academy's commitment is to the long-term success of its trainees in the ski instruction industry, backed by a qualification that is widely accepted across various countries.
Rookie Academy
Rookie Academy, founded in 1992 by Dean Hunter at Treble Cone, has established itself as a premier institution for ski and snowboard instructor training. Initially a 10-day weekend course for locals, it has evolved into a full-time business under Dean's ownership and active involvement. Over the past 30 years, Rookie Academy has achieved a commendable record, with over 2,500 instructors qualified and 90% pass rates for Level 1 and 2. The academy offers training camps in multiple locations worldwide, including New Zealand, Italy, Japan, the USA, Canada and China
The academy's success is attributed to its hand-picked international trainers, who are considered influential in the ski and snowboard world. These trainers bring together passionate snowboarders from across the globe to experience diverse mountains, cultures, and create lasting friendships. The training provided by Rookie Academy not only equips instructors with the necessary skills but also ensures they are ready for placements in Europe, North America, Japan, China, and New Zealand.
Rookie Academy's approach is to continuously evolve its programs to meet the changing technical directions of the sport and the needs of its clients. This dedication to excellence and adaptability has made it a respected name in the ski and snowboard instructor training industry.
Alltracks Academy
Alltracks Academy, established in 2007, has grown into a reputable provider of snowboard and ski instructor training courses, operating out of the world-renowned Whistler Blackcomb resort in Canada. With a commitment to high-quality training and personal attention, Alltracks maintains small coaching groups, with a maximum of six guests per coach, ensuring a tailored and intensive learning experience. The academy has successfully trained over 2,000 instructors, offering a range of courses from 4 to 18 weeks, designed to cater to various schedules and career goals.
The courses at Alltracks are comprehensive, providing qualifications up to the Canadian Ski Instructors' Alliance (CASI) Level 4, the highest certification in the Canadian system. Additionally, they incorporate off-piste and avalanche safety training, with the inclusion of the Canadian Avalanche Association Avalanche Skills Training Levels 1 and 2 in certain programs.
Alltracks prides itself on a family-run ethos, despite its growth, and emphasizes a personal touch from the booking process through to post-course career support. The team is led by experts like Guy Hetherington, a CSIA Level 4 Examiner, and Paul Beard, the founder, who are both deeply passionate about snow sports and coaching. This dedication to excellence in snow sports education makes ALLTRACKS a standout in the industry for those looking to turn their passion for snowboarding into a professional career.
Nonstop Snow
Nonstop Snow is an instructor training business that was born over a decade ago from a passion for mountain sports. It originated in Fernie, British Columbia, where the concept of combining progressive ski and snowboard coaching with the camaraderie of like-minded travelers was conceived. The company's ethos is centered on pushing limits and fostering a community among skiers and snowboarders. Nonstop Snow has expanded its offerings over the years to include instructor and patrol courses, as well as all-mountain and backcountry courses, catering to a global clientele in select mountain destinations.
The team comprises various coaches and technical directors, such as Jens Mende (Ski Technical Director in Fernie) and Clarence Gagnon (Snowboard Technical Director in Fernie), among others. They offer a range of courses for both skiing and snowboarding, indicating that they do not specialize exclusively in snowboarding.
Snowboard Coach
Snowboard Coach is a pioneering independent snowboard coaching company in the UK, established in 2002 by Ash Newnes. With nearly 30 years of riding experience and 25 years of teaching, Ash is a highly respected figure in the British snowboard community. The company specializes in snowboarding, offering a variety of courses, including instructor training and certification, primarily at their winter base in Arinsal, Vallnord, Andorra. They are a fully approved partner of BASI (British Association of Snowsport Instructors), indicating a proven track record and rigorous quality control in their training products.
The Snowboard Coach team, qualified under the BASI system, boasts over 100 years of combined experience in coaching a range of abilities from beginners to top-level sponsored riders. They emphasize not only high qualification standards for their instructors but also a commitment to making snowboarding enjoyable and accessible. The company prides itself on being more than just a training provider; they aim to create a sense of family among their clients. With a motto of making clients "less s**t at snowboarding," they focus on tangible improvements in skill and confidence on the slopes.
Snow Trainers
Snow Trainers is an established provider of ski and snowboard instructor training, founded in Queenstown, New Zealand in 2003. They offer a range of courses in New Zealand, Japan, and the USA, catering to those taking a gap year or seeking a career in snow sports instruction. Their philosophy emphasizes not only skill development but also the overall winter experience, promising lifelong memories and friendships.
The company boasts a team of highly qualified trainers, including some who have represented the USA and New Zealand in national demonstration teams. These trainers are also examiners for NZSIA/SBINZ in New Zealand and PSIA-AASI in the USA, providing students with insider knowledge of certification exams. Snow Trainers prides itself on a high pass rate for their courses, which range from 4 to 12 weeks, and are designed to cater to all skill levels.
Graduates of Snow Trainers' programs receive qualifications recognized worldwide, with many finding employment in Europe, North America, Australia, Japan, and New Zealand. The company guarantees job placement with a ski school upon successful completion of their course and interview, leveraging their global network of industry connections.
SITCo
SITCo, established in 2002 in Queenstown, New Zealand, is the original snowboard and ski instructor training company in the region. Founders Colin Tanner and Gavin McAuliffe, both highly respected trainers and NZSIA examiners, have cultivated a community of snow enthusiasts and professionals. The company offers training for NZSIA Levels 1 and 2 for skiing and SBINZ Levels 1 and 2 for snowboarding, with Level 3 as an option. SITCo's graduates are equipped with internationally recognized qualifications, enabling them to work globally in the snow sports industry.
Operating in the stunning alpine town of Queenstown, SITCo utilizes the ski fields of Coronet Peak and The Remarkables for their training programs. They pride themselves on a hands-on approach, ensuring a high standard of training and care for their students both on and off the slopes. The company does not specify the exact number of instructors they have trained, but they highlight their global network of contacts in snow sports schools and ski resorts.
SITCo's training courses are comprehensive, including freestyle, freeride, and racing options, and are designed to deliver the teaching and analytical skills required to become a world-class instructor. The company's founders have played significant roles in shaping New Zealand's snow industry, contributing to the NZSIA manual and representing the country at international forums.
We Are Sno
WE ARE SNO is a company specializing in snowboard instructor training, offering courses that lead to internationally recognized qualifications. They operate in world-class resort destinations across Canada, Japan, Switzerland, and New Zealand, catering to individuals looking for a gap year adventure or a career change. Their training programs are comprehensive, focusing on both riding techniques and teaching methodologies, delivered by experienced trainers who are also qualified examiners. The company prides itself on providing extensive on-snow training, ensuring trainees are well-prepared for certification courses.
The qualifications obtained through WE ARE SNO's programs are interchangeable and recognized globally, allowing graduates to teach in multiple countries. In Canada, they work with the Canadian Association of Snowboard Instructors (CASI), and in Japan and New Zealand, the training is geared towards Snowboard Instruction New Zealand (SBINZ) certifications. They also offer advanced training options, including level 2, teaching children, and avalanche safety courses.
Testimonials from past participants highlight the supportive nature of the WE ARE SNO team, the quality of the training, and the overall enjoyment of the experience. The company's commitment to their trainees' success is evident in the support provided from the initial inquiry through to the completion of the course and beyond.
​​Basecamp
​​Basecamp offers a dynamic and memorable experience for those looking to become snowboard instructors. With a promise of high-quality training, Basecamp employs experienced and highly qualified trainers from around the world. The courses are designed to be more than just educational; they aim to be unforgettable experiences that also provide a globally recognized qualification. Basecamp offers both ski and snowboard instructor training, emphasizing the development of skills necessary for a career in snowboarding instruction.
While the specific founding date and the number of people trained were not detailed on the provided web pages, Basecamp's commitment to excellence is clear. They operate in various locations, offering courses in places like New Zealand and Canada, showcasing their international presence. The trainers are not only educators but also advisers, mentors, and friends, offering support that extends beyond the course duration. Some courses even guarantee a job at the end, ensuring that trainees have a clear path to professional application of their new skills.
Basecamp's approach is comprehensive, focusing on creating a supportive and effective learning environment for aspiring snowboard instructors. This makes them a notable option for those seeking to turn their passion for snowboarding into a profession.
​​
Wrapping Up
As we carve the final turn of this journey, it's clear that choosing a snowboard instructor course is a pivotal step in a much larger adventure. It's not just about the certification; it's about where it can take you, the people you'll guide, and the experiences you'll cherish.
The right course is your ticket to a world where your passion for snowboarding becomes your profession, opening up opportunities from the powdery slopes of the Alps to the rugged ranges of the Rockies.
So as you gear up to make your choice, think about the paths you want to explore and the memories you want to create. Your ideal course is out there, waiting to launch you into the next chapter of your snowboarding story. The peaks are calling—are you ready to answer?