The Custom and the Process are some of Burton's most popular snowboards. Over the past few years, I've owned and ridden both boards as my go-to all-mountain snowboard. I love both boards, and although they have much in common, there are a few key differences that make them feel quite different to ride.
The Process is the board of choice for pro-snowboarder Mark McMorris, who has ridden it to multiple gold medal titles, and is the best-selling board in Burton's freestyle range.
The Custom is the longest-running snowboard in the Burton range. And has been the board of choice for many pros since 2003.
Description:

A more freestyle-orientated, All-Mountain board that is slightly softer and easier to ride.

Description:

An All-Mountain board with a directional shape. Suitable for more aggressive, advanced rider
Description:
A more freestyle-orientated, All-Mountain board that is slightly softer and easier to ride.
Description:
An All-Mountain board with a directional shape. Suitable for more aggressive, advanced rider
So what ways do these two iconic boards differ? And what kind of riding are they best suited to?
| | Custom | Process |
| --- | --- | --- |
| Camber | Traditional Camber | Pure Pop Camber |
| Shape | Directional Twin | True Twin |
| Flex | 6/10 | 5/10 |
| Sizing | 150, 154 (w), 165 (w), 158, 162, 166w, 170w | 152, 155, 157 (w), 159 (w), 162 (w) |
| All-Mountain | | |
| Freestyle | | |
| Freeride | | |
Comparing Shape
At first glance, both boards have a similar twin-tip shape.
The Process is a true-twin, meaning it has a symmetrical shape front and back. True-twins ride switch exactly the same as they ride in your normal stance. This means the Process lends itself to freestyle riding, where you are taking off and landing switch.
The Custom's shape is what Burton are calling All-Mountain Directional. The board has a slightly longer nose than tail, which gives it more float in powder and soft snow.
However, between the contact points (where the edges come into contact with the snow), it's actually a true twin. This means, on groomers, you will feel no difference riding in you your natural stance or switch.
Both boards come in enough different sizes so that every rider should be able to find a size suitable for them. If you're not sure which size of board works best for you, check out our snowboard size calculator.
Comparing Camber
Both boards have traditional reverse camber profiles, meaning they both lift off the ground under the center of the board and touch down at the tip and tail contact points.
The Custom has a traditional camber shape, which gives great control and precision at higher speeds.
The Process' bend profile is what Burton are calling Pure Pop. It has camber through the middle of the board, but they have added small flat sections under the contact points.
These flat sections create a slight early rise in the curve of the nose and tail, which, although small, has a significant effect on how the board feels.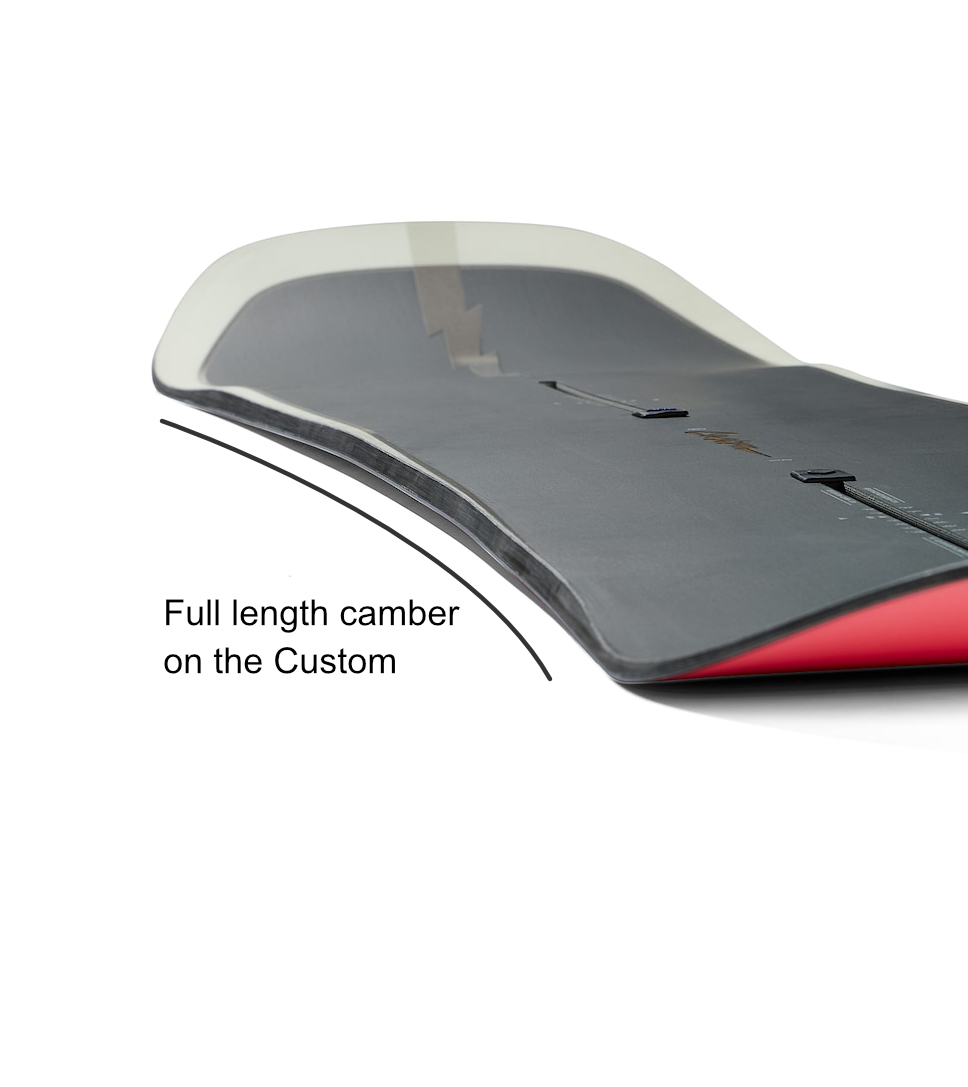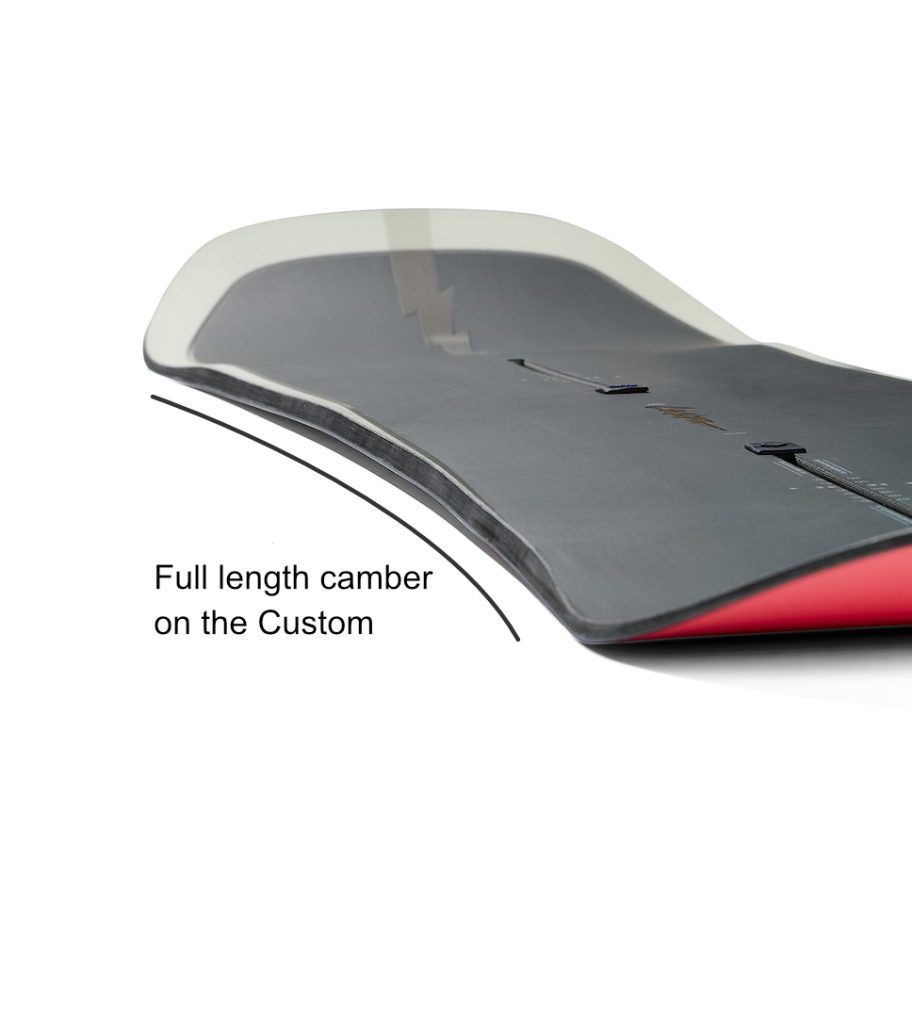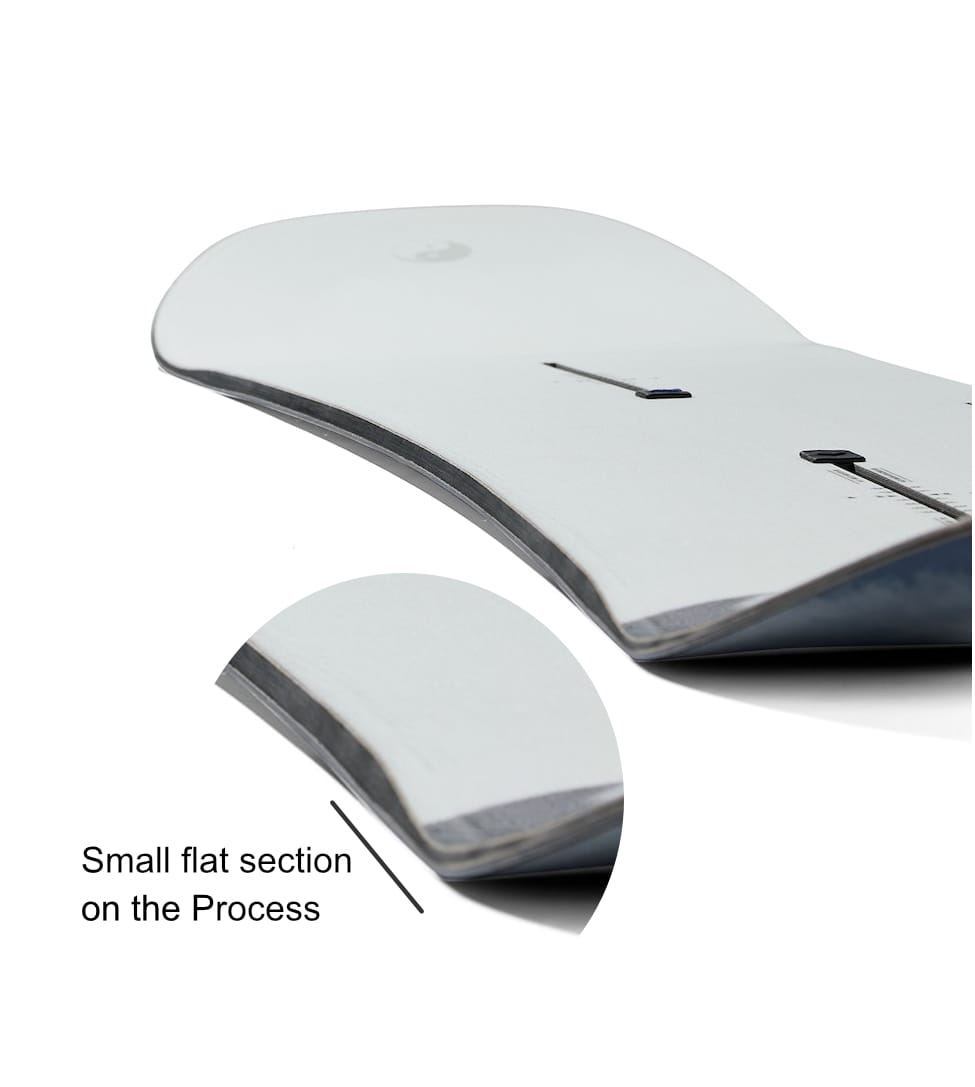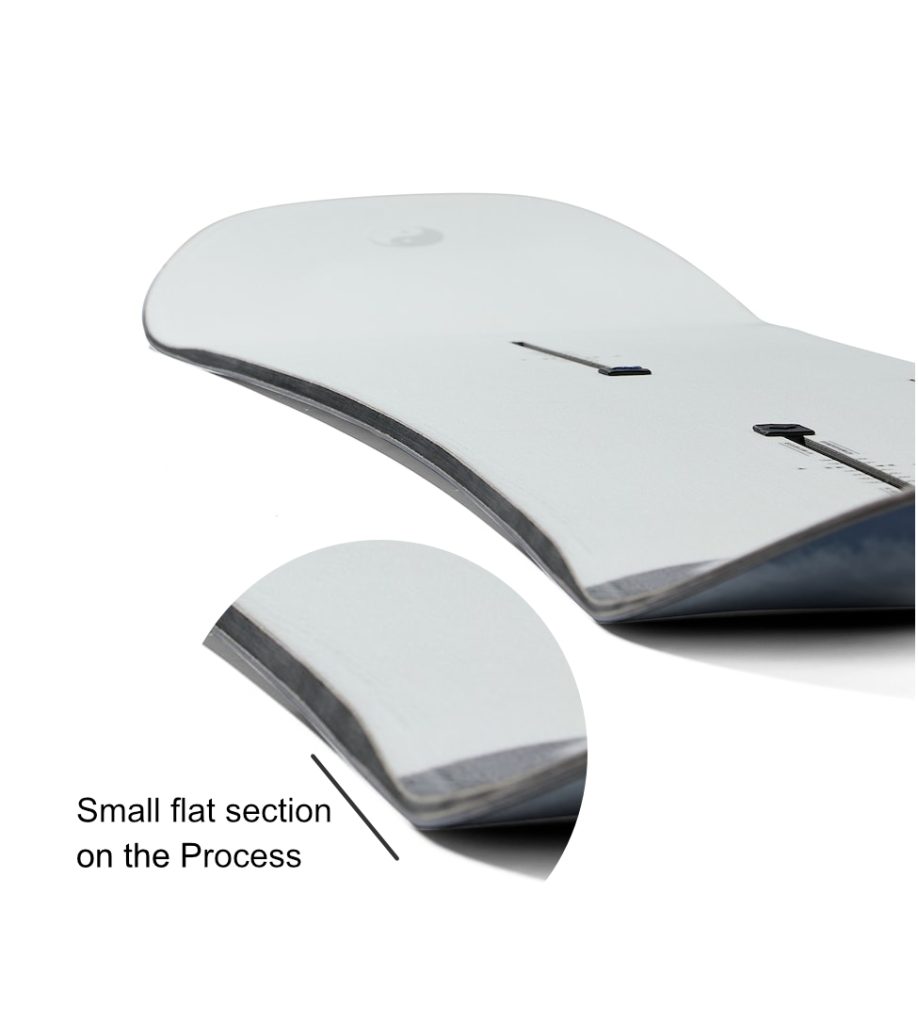 The early rise effectively shortens the edge length and makes the board much more lose feeling than the Custom, whose longer edge length really locks into the snow. This makes the Process better suited for buttering tricks and spinning the board in the snow.
Comparing Flex
Both boards have a twin flex, meaning the rigidity is symmetrical along the board's length, so the board's tail is as stiff as the nose.
This again lends itself to riding switch and gives both boards a more freestyle, playful feel.
Custom's construction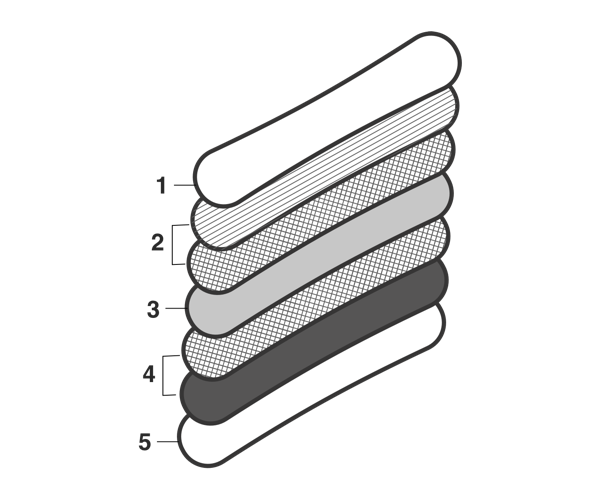 Topsheet
Top glass 0°/UDG & +/- 45° stitched
Core
Bottom glass 0°/ carbon & +/- 45° stitched
Base
Process' construction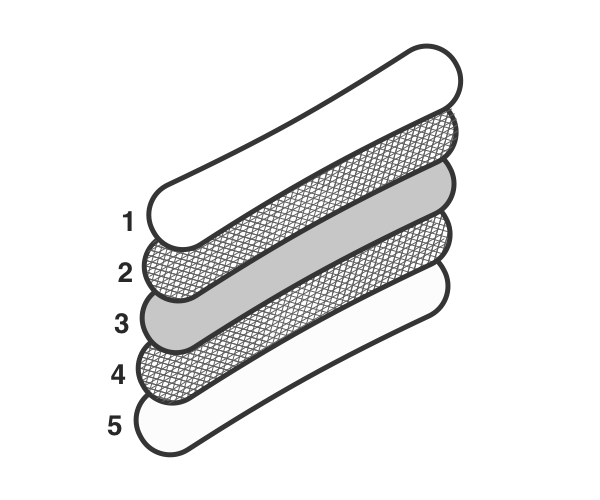 Topsheet
Top glass +/- 45° & 0° stitched
Core
Bottom glass 0° & +/- 45° stitched
Base
The difference between the two boards comes from the layers of carbon fiber that are sandwiched on either side of the core.
The Process has a matrix of glass laid in three directions, +/- 45 degrees and another running length-ways.
The Custom has a more complex weave of glass with diagonal fibers varying from 45 to 60 degrees to create a highly maneuverable yet playful feel. There are also some carbon highlights running through the glass matrix that make the board more rigid than the Process.
Both boards have sintered base that runs super fast, holds wax well, and are tough enough to withstand a few rocks. However, the Custom has a slightly higher grade WFO sintered base that has larger pores and holds wax a little better.
How the riding compares?
Burton classifies both the Process and the Custom as all-mountain boards, meaning they are the most versatile kind of board and suitable for all types or riding from park to piste to powder.
This is how Burton rates the two boards, as you can see they are pretty similar!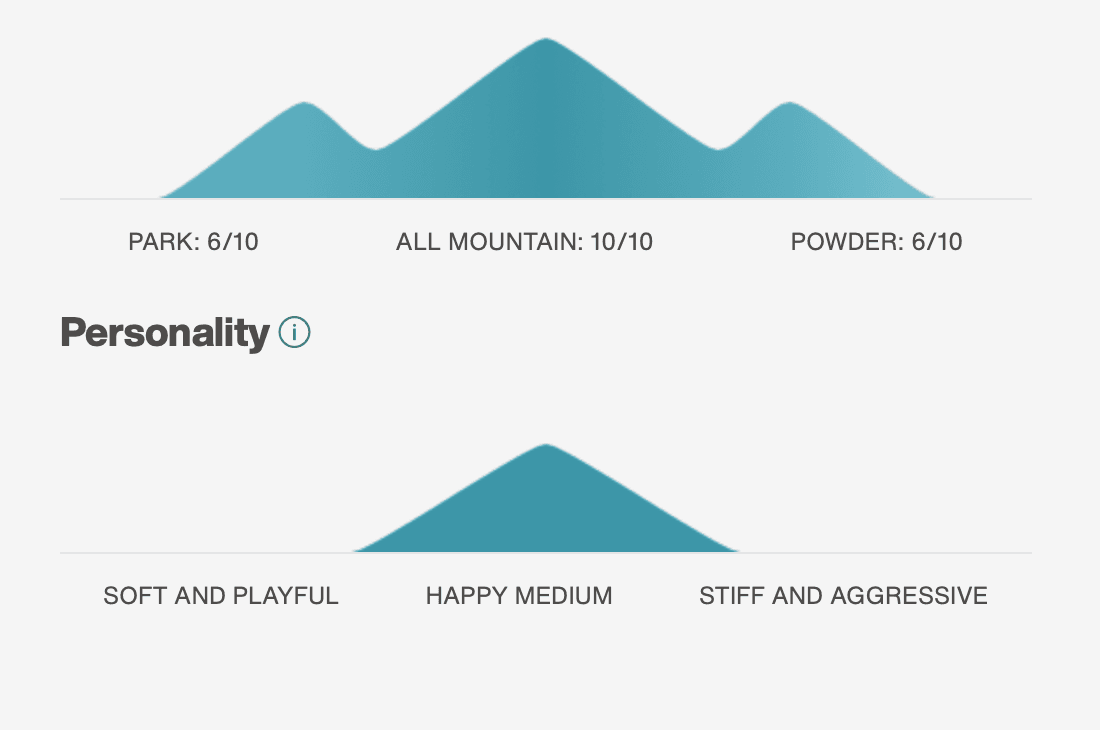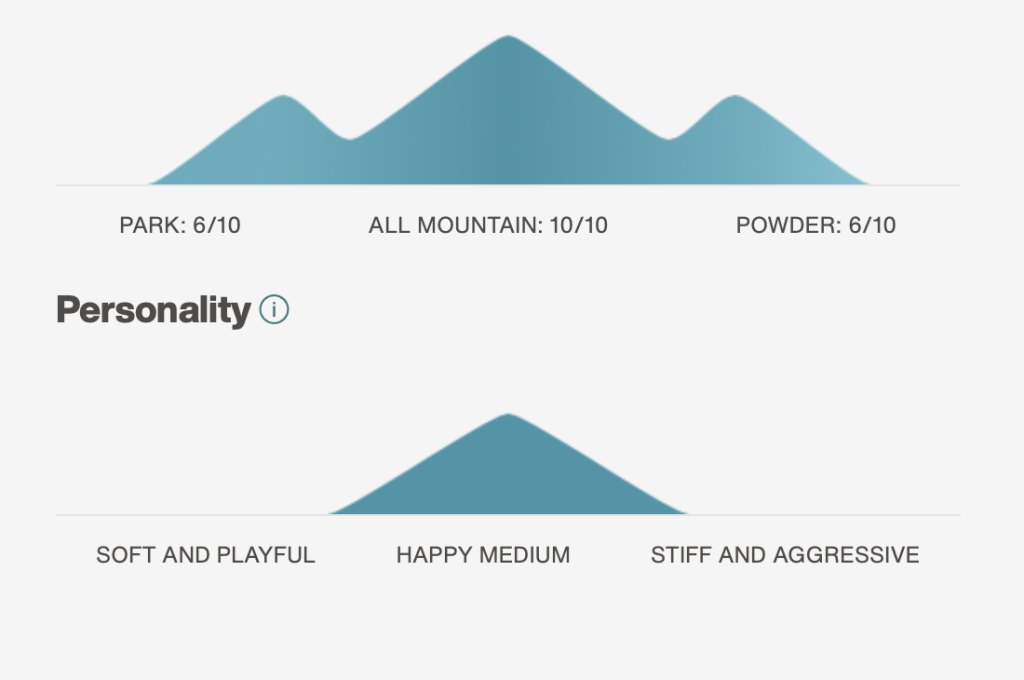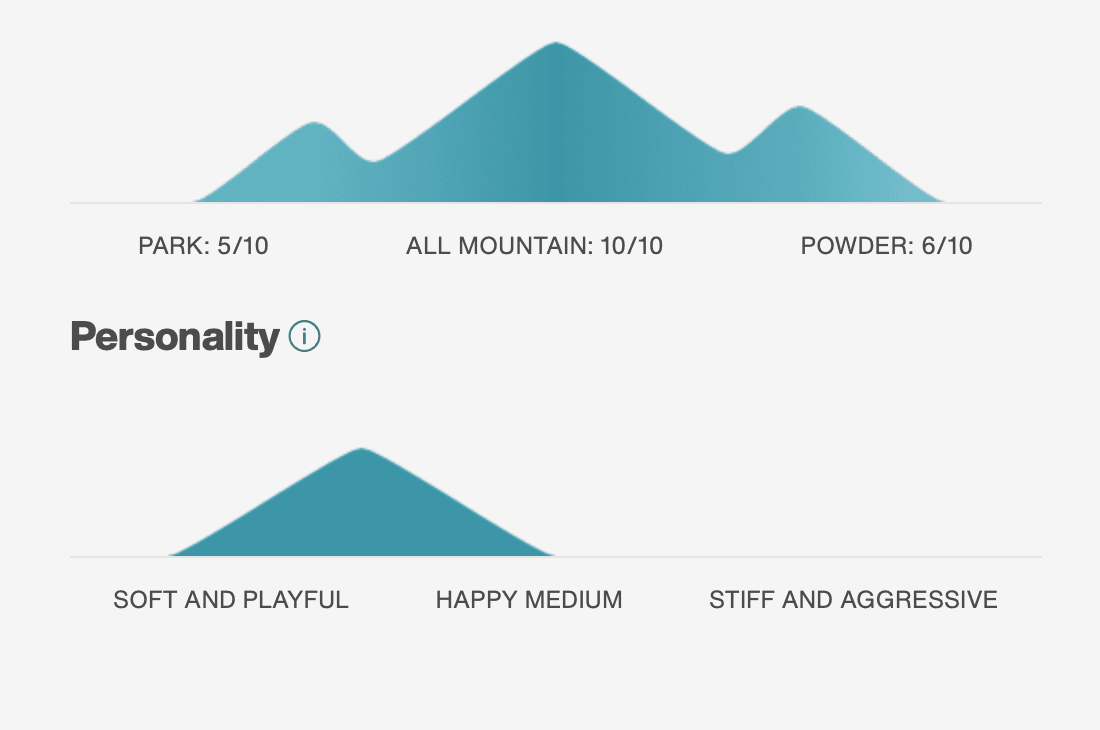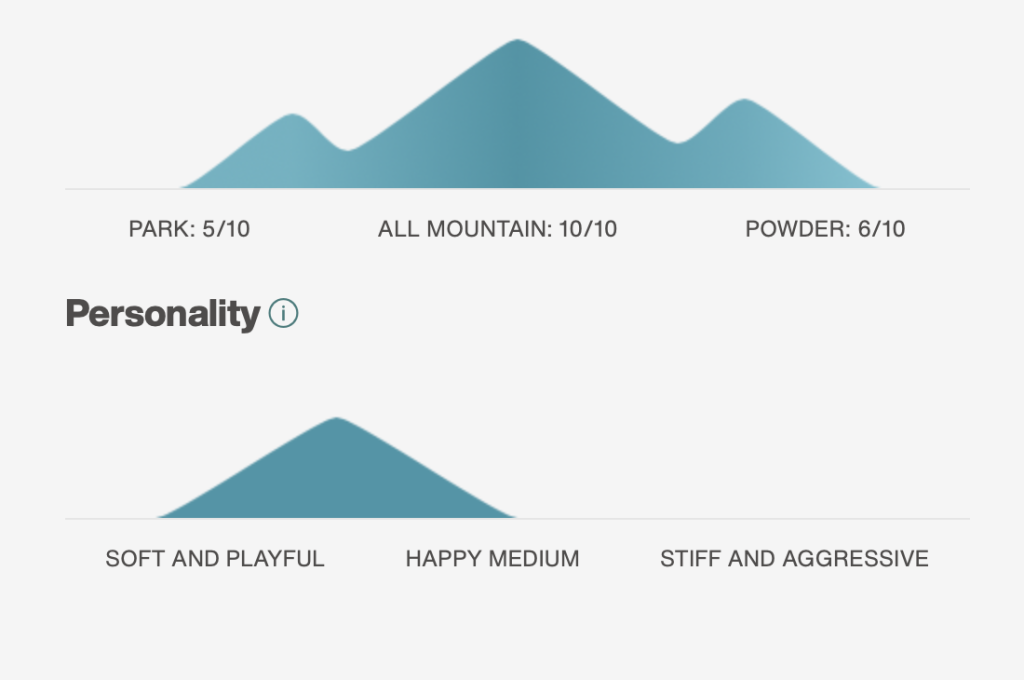 I am kind of surprised they rate them so highly as all mountain boards and not so much as park boards. After all, a lot of their pro riders ride these boards in competition.
This is how I would compare the two boards:
Park
The main characteristics that make a difference here are the camber and the flex of the two boards. The Custom is a little stiffer and has a full-length camber profile. This makes it more stable and precise to ride, which suits riding big jumps and riding half-pipe. But you need to be a really good rider to need this level of precision and lack of forgiveness when riding the park.
The Process has those small flat sections in the camber at the contact points, which makes it more forgiving to ride in the park. This is particularly suited to butter tricks and riding rails and boxes. It might be a little soft and lose for riding pipe, but probably only for expert riders.
For the vast majority of riders, I would say the Process is a more versatile board for the park.
All-mountain
All-mountain riding basically is your everyday cruising around the mountain, carving some turns, maybe hitting little jumps, and looking for little pockets of powder. And both boards are great for this.
But again, they do suit slightly different styles of riding. If you are the kind of rider that likes speed, carving turns on the groomers and popping big ollies I would go for the Custom.
If you are a more aggressive rider that likes speed…I would go for the Custom.
If you the kind of rider that rides a bit slower and plays around with some butter tricks, I would go for the Process.
I would also say the boards suit different kinds of mountain. The Custom will give you more control if you are riding bigger, steeper resorts. The Process may be a little more fun if you are riding a smaller, flatter resort.
Powder
Burton also scores both boards equally when it comes to riding powder. But they achieve this in different ways:
The directional shape and longer nose give the Custom more float.
The flat section in the Process' profile allows the nose to rise up a little earlier, so although it's a true-twin it achieves the same result.
Because it's a twin, the Process will also ride switch in the powder the same as natural stance, so it's more suited for tricks and butters. For me, though, the extra stiffness of the Custom just gives it the edge over the Process in the powder. 
Summing up
Both these boards are some of the best and most popular all-mountain boards on the market. But as I have explained, their small differences in design make a big difference in their riding.
Personally, I prefer the Custom. These days it better suits my style of riding and the type of terrain I like to ride. Plus, I like this year's neon pink base!
But if I was still in my 20's when I was riding more park, I would probably go for the Process.